I huffed and puffed and my legs were like Jell-O. I still had half the run to make, but had to stop repeatedly to catch my breath and recenter. This was hard and exhausting, but also incredibly rewarding. I was so happy to be on the mountain, and smiling so much I almost starting laughing hysterically from giddiness. It was my first day on the slopes since having my first child a month earlier, my first day of the season and Valentine's Day to boot. I did it! I overcame the obstacles, got on the mountain with a baby in tow and was enjoying the snow under my feet and the sun on my face.
And skiing after having a baby wasn't my only feat that day. Just getting to the mountain was actually a bigger obstacle than the challenge of skiing itself. What a change from before we had a baby, when my husband and I would ski as we pleased on the weekend, sometime grabbing a midweek ski day to dodge the crowd. We'd wake up when we felt like it, throw our gear in the car and hit the road.
When we found out I was pregnant we knew that lifestyle was over – for the most part – and that we'd need to be a bit more structured if we wanted to ski. But we were also incredibly excited to introduce our new baby to our favorite pastime, even if he couldn't jump on skis right away, and so we committed to getting our act together. I just didn't realize quite how challenging that would be.
Now, I have to include a disclaimer. I ski a lot. It's my job to talk about it, so it's important for me walk the talk (ski the ski?). I work in the ski industry and can ski for free and have many more opportunities to do so than is typical .
But even with my access to skiing, all my insider information and experience with Vermont ski areas, it still wasn't easy for me to get back in the skiing groove after my son was born in 2017. I know how hard it is – and exactly why it's worth it – and that's why I want to share what I've learned with all the Mamas (and Papas) who are trying to get back on the mountain and sliding on snow. Joining the All Mountain Mamas this season, I plan to do just that, starting with a little inspiration and guidance to getting back on the mountain after birth.
Why Make Skiing and Snowboarding a Priority?
So, you're expecting for first child, or second. Or you have very young child. How do you keep your ski or snowboard traditions alive? And why should you? We all know that bringing kids into the family changes our priorities, as it should. So where does skiing and riding fit?
The answer to these questions is of course a bit different for all of us. Some of us are season pass holders who ski or ride routinely, others one-trip-a-season skiers or riders. But no matter how often you make it to the mountains, keeping those traditions alive gives you a healthy outlet every winter. Perhaps even more importantly, by prioritizing mountain fun in your family life you will eventually teach your little ones that unplugging and getting outdoors, even in the winter, is important for their mental and physical health.
Studies show the benefits of outdoor play for young children, pointing to lower stress levels, higher confidence, broader imagination and better understanding of consequences.
Taking a ski trip with your family when your children are very young might seem like a mountain of it's own to conquer. But establishing the tradition of family ski vacations will not only give you the confidence you need to do it year after year – it will offer you and your entire family great rewards and shared experiences that you'll look forward to every winter.
Baby Steps to the Mountain
Step 1: Talk to your Doctor
This step is for the mamas giving birth. Adopting or reading as a partner? Skip ahead to Step 2.
How soon after birth is it safe for you to ski or ride? As I'm sure you know, birth does crazy things to your body, whether you deliver naturally, with meds or have a C-section. We all recover differently, and just like parenting, we're all going to have slightly (or drastically) different experiences.
Before you decide whether or not so hit the slopes, it's important to know your body's limitations. Talk to your doctor about any concerns you might have and then make your
decision based not on what you think you should be doing, but what feels best and right for you. This might mean you spend some time on easier, more groomed terrain than your used to for a while. Or it might mean more rests in between runs. Only you can know what's truly right for you. Which leads me to the next step:
Step 2: Have realistic expectations
You won't necessarily be able to jump right back in to your pre-baby skiing life. If you've always been a season pass holder who skis every weekend, maybe aim to ski once a month post baby. Your first time out, don't expect to get a full day and epic vertical. In all likelihood, you and your partner will be swapping time on the mountain with time in the lodge to watch the baby or nurse. Just enjoy the time you do have as much as you can and go easy on yourself.
What if you're someone who usually plans a trip or two with a group of friends or family? Before you head far from home, why not book a weekend at a resort within driving distance and test the dynamic. Maybe purchase your lift tickets from day to day so you don't feel pressured to ski or ride when you don't really feel like it. Spending time at a beautiful destinations with loved ones is half the enjoyment, so relax and enjoy.
And no matter if you live near the mountains or are visiting, enlisting friends and family can be a key way to get yourself back out there. Not only will they be your cheerleaders, they can also act as babysitters if you're gunning to get out with your partner. Joining other families with children? Swap days out and have a lady date on the lift. Or make plans at a resort with daycare. You'll of course have to pay if you make this last choice, which leads me to my next piece of advice.
Step 3: Set a budget
There are additional expenses that come with skiing with kids, making it important to plan for your ski trips. You also want to avoid being overly ambitious and paying for skiing or riding that you can't do because you haven't arranged for childcare.
Before winter comes around, and after you've set realistic expectations, outline how much you're willing to pay for them. Have a limited budget for the season? Look for lift ticket deals that are flexible or transferable so you have options. For the best lift ticket deals, buy ahead of time. Then include the cost of a day or two of ski resort daycare in the budget. Other options include bringing along or finding a local babysitter you pay, or having a grandparent come with you or stay home with the kiddo, so you can get a full day or two on the hill.
If you have a bigger budget, book trips in advance, and include insurance in case you need to cancel. If you can afford it, things like slopeside lodging, resort childcare and spa treatments can all make ski trips with kids relaxing and fun.
Your goal should be to find not just what you can afford, but what you can afford that will give you the support you need to actually enjoy yourself knowing that your child is well cared for. Which is where your support network is so vital, as my final step shows.
Step 4: Find Your Village
Skiing and snowboarding with baby is easiest with a support group. Don't be afraid to ask grandparents and friends to join you at the mountain and help watch your baby. The base lodge scene is a a fun, vibrant one to be a part of and buying a beer for a friend or treating grandma to lunch is worth having folks around to hang with and possibly watch your baby as you slide on snow.
How I Became an All Mountain Mama
I started out talking about the joy and freedom I felt my first day on the mountain after I had my son. Now allow me to back up and tell you just what went into making that happen.
First of all, we decided to make our first foray into skiing on a weekday, so that there wouldn't be long lines. My husband Chris took the day off and we packed the car with everything we needed: skis, boots, poles, helmets, diapers, extra milk, my pump (just in case), baby books, toys, a baby sling…and I'm sure many other items that I'm not even remembering now. It was an hour drive to the mountain, so we stopped to grab breakfast and I fed Oliver in the car. He napped the rest of the way and when we got there my husband dropped me and the baby off at the base area around 10:45 am. I found a table in the pub that was empty and out of the way, and set up camp, first checking in with a waitress to see if she was OK with me setting up there for the day. She was very accommodating and I ordered lunch and a drink, vowing to leave a nice tip for her. By the time my husband rolled in with the rest of our gear, I was raring to go and headed out for three runs, before I came back to the pub to relieve Chris. After I changed the baby, he napped again and I read a book in my pub nook until Chris returned. We sipped a local beer, fed him again, and packed up to head home.
Now, this may seem like a lot of work for a few runs. But the day was wonderful and I was so proud of us for getting out. Once we did it, it became less of a mountain of its own to conquer and we gained the confidence to do it again and again, even planning a destination trip with friends later that season.
The first step is the hardest. You'll likely feel nervous about how it will all pan out. Will baby fuss and cry? Will there be a place for us at the mountain? How are we going to get all the gear there? Is all this worth it? But I assure you, once you're settled in and baby is happily napping, feeding or watching the people going by, you'll be so happy to be on top of that mountain – a proud All Mountain Mama.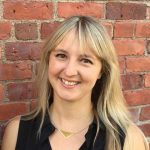 Sarah Wojcik is the founder of All Mountains Mamas. Becoming a mother in 2017, she grasped the opportunity to share her passion of skiing and snowboarding with families across North America. Formerly the Director or Marketing and Communications for Ski Vermont, she writes with great knowledge of the ski industry in Vermont and beyond, and from the point of view of a mother working to get back out on the slopes with a pre-schooler and baby in tow. She currently works for Ski Area Management magazine as an Associate Editor and wearer of many hats.