Fall foliage is popping at elevation in Vermont, and it's the perfect time to head to the hills to enjoy the beautiful colors of autumn in the mountains. Take a hike. Ride a lift. Enjoy one of the many events celebrating the harvest season. Or just stay at a wonderful inn or resort and take in the scenes.
Family friendly activities and eateries still abound in the the autumn season, but it's also a great time to simply enjoy the beauty of Vermont's mountain environment. Here are some gorgeous photos are the mountains in the prime this October and suggestions on the best ways to view them with the whole family. Enjoy!
Stowe Mountain Resort
Stowe Mountain Resort's scenic Gondola and Auto Toll are two amazing ways to experience Fall foliage on Vermont's highest peak. Open every day through October 14. Photo by Scott Braaten.
Stratton Mountain Resort
Stratton's gondola is one of the best ways to view southern Vermont's sweeping views. Once at the summit, hike to the Stratton Fire Tower for views spanning four states.
Bromley Mountain
Bromley is celebrating autumn and the final weekend of Adventure Park operations this Saturday, Sunday & Monday, Oct 6-8. The Sun Mountain Flyer, the Aerial Adventure Park, the Alpine Slides and scenic lift rides to the summit and more are ready to go all three days this Columbus Day weekend, from 10:30am to 5pm. Join them Sunday for some extra fun, featuring a chainsaw carving demo and pumpkin decorating!
Magic Mountain
At Magic, there are  two great ways to enjoy the fall foliage scenery this weekend.
1. Volunteering on Saturday morning to clear glades and get an up close an personal view of foliage on Magic and looking out across the valley (For dedicated enthusiasts)
2. Coming to our "Mini-Oktoberfest" celebrations Saturday and Sunday afternoons on the deck just drinking beer, eating brats, playing games, and simply taking it all in. (preferred methodology for most)
Killington Resort
The pinnacle fall experience in Killington is a K-1 Express Scenic Gondola ride, whisking you and the family to the top of 4241' Killington Peak for unbeatable fall foliage views of Vermont, New Hampshire and New York. From the Gondola terminal you can hike a short distance to the true, alpine summit of Killington, Vermont's second highest peak; or head inside the Peak Lodge, for incredible views, farm to table fare and craft beer or cocktails.
Smuggler's Notch Resort
To view the spectacular colors expected this fall, Smuggs has a wide variety of family-friendly activities, beginning with guided foliage, apple, and maple walks, e-bike tours, and trips to local orchards. If staying put is more your cup of tea, stick around the cozy mountainside village to play a wide variety of life size games, shop at one of our on-site retail stores, or visit the FunZone 2.0 for unforgettable memory-making! Visit Smuggs.com for more info!
Burke Mountain
The vibrant colors of fall foliage can be absorbed from almost anywhere on Burke Mountain. Enjoy a quick 10 minute drive up the paved scenic toll road of burke mountain and along the way you'll see views of the Willoughby Gap in the distance as you zig-zag your way through what are soon-to-be snow covered ski trails. For those that may have biked or hiked all day you can take in the striking view of Burke Mountain by sitting slopeside on the patio of the Burke Mountain Hotel with beverage in hand.
Bolton Valley
Enjoy beautiful scenic vistas of fall foliage at Bolton Valley with a complimentary Sunday morning guided hike.
Mountain Top Inn & Resort
There isn't a bad place to view the foliage at Mountain Top, with views from all sides of the Inn. Prefer to be a more adventurous leaf peeper?  Take in this year's awesome foliage while paddling on the lake, or 'between the ears' of a horse on a trail rides. And enjoy a seasonal Vermont craft brew or hot spice cider in the tavern!
We hope you're enjoying fall just as much as us! Winter is just around the corner. See you on the slopes, if we don't see you on the trail first!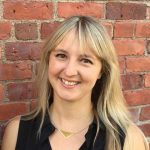 Sarah Wojcik is the founder of All Mountains Mamas. Becoming a mother in 2017, she grasped the opportunity to share her passion of skiing and snowboarding with families across North America. Formerly the Director or Marketing and Communications for Ski Vermont, she writes with great knowledge of the ski industry in Vermont and beyond, and from the point of view of a mother working to get back out on the slopes with a pre-schooler and baby in tow. She currently works for Ski Area Management magazine as an Associate Editor and wearer of many hats.