How to trick your teen into talking, and other family wisdom, from the All Mountain Mamas
Parenthood will surprise even the most prepared of us. It's full of ups and downs and all-arounds, and sometimes the simplest things like going to the grocery store can feel like a big deal with the family in tow. So it's no surprise that for some of us, getting the family out skiing or snowboarding can feel like a herculean feat.
Even as a die-hard skier, I face the world of family skiing with a bit of trepidation. My son, Oliver, was born in January of 2017, right smack in the middle of the ski season, and while he certainly isn't ready to hit the slopes yet, I'm already planning for the day he puts on his first pair of skis, the day he links his first turns and the day he ultimately surpasses me in skill, speed and grace. To get a peek into my future, and some needed motivation, I reached out to my very own collection of mentors, the All Mountain Mamas, to help me navigate the many milestones of family ski travel.
I've come to realize that children grow and change far too quickly and as soon as you think you've figured out the family dynamic, it's bound to change. The All Mountain Mamas – Erica, Gina, Mara and Dana – all have children of different ages and each age group comes with their own unique challenges and celebrations. I asked them to share with me their favorite moments, greatest hurdles and top tips when skiing and snowboarding with the family.
Cherished Moments on the Hill
One of the greatest benefits of skiing and snowboarding as a family is time spent together, unplugged and enjoying nature and each other's company. This is true at all ages and something the Mamas truly cherish, along with seeing their children grow in confidence and overcome obstacles.
Erica's daughter, 6-year-old Phoebe, started her snow journey just two winters ago and is growing leaps and bounds year-to-year. "I love that my daughter is building confidence by learning to ski and that it's something she can do on her own in her group lesson but also with her family. Even on those tough days where she feels frustrated, scared or cold, she is able to persevere and find joy in skiing."
On the other side of the age spectrum, Dana's teenagers, 18-year-old Flynn and 15-year-old Callahan, exude confidence on the hill and can handle just about any terrain they come across. Quality time with teenagers, however, can be challenging. "My favorite part of a ski day is the one-on-one time we get on the chairlift. They are trapped and have to talk to me."
Mara agrees. Her boys, Tommy and Teddy, 15 and 12 years old respectively, open up on the chairlift in ways they don't necessarily do at home. "We have always had great conversations on the chairlift, and I find as they get older it's even more of an opportunity to chat about what's happening at school in ways that we don't always do at home."
Gina and her three daughters – 11 year-old Nola, 13 year-old Bianca, and 15 year-old Stella – are relatively new to the ski scene. "We kicked off our family's ski tradition at Stowe in February 2014 when they were 11, 9 and 7, and though my husband had been skiing since he was very young, that trip marked my first time on skis as well as theirs. I loved learning alongside our girls and will never forget skiing Stowe Mountain's classic Toll Road trail as a family at the end of our second day of lessons."
Both Gina and her husband have enjoyed growing with the girls. "I get a huge thrill watching the way our girls have found their groove as skiers, navigating their way down the mountain with dynamism and confidence. Though we learned to ski together, they now zip past me, ducking into the glades, hitting the jumps and catching fresh powder on the edges of the trails."
Challenges Change…and are Overcome
Different families face different challenges and rewards at home, on the road and on the mountain. The challenges are an ever-changing landscape, but the Mamas drive home that overcoming them is always worth the return and a little patience and determination can pave the way to great days on snow together.
For Erica and her daughter, routine is key and consistency is king, but keeping things slow at new places also gives them options to explore. "Being in a new place can result in a lot of overstimulation and overtiredness. We ski nearly every weekend at Bolton Valley, which is where my daughter takes season-long lessons. But when we go somewhere new and ski at a place typically outside of our routine, we stick close together, take our time to get to the mountain, and take lots of breaks."
And it gets easier, or so they tell me! As kids grow in maturity and stature, they can take on more of the responsibilities of travel, like packing and carrying their own gear. Gina says, "I really feel like the tween-teen years are some of the best to travel as a family. Compared to when they were younger, there is simply far less drudgery involved. For the most part, our girls pack for themselves; they're responsible for rounding up their own gear, they schlep their own skis, they buckle their own boots. So logistically speaking, getting ready for a ski trip is not nearly as laborious for us as parents as it once was."
Dana and Mara agree. With teenagers, you can let go of the reins and let them explore, while also giving yourself a little break.
Mara: "I have always loved traveling with my children and have done so since they were infants. But I'll admit that it is so much easier to travel with older kids. They don't require constant attention or monitoring, they are more flexible in terms of eating and sleeping and they carry their own gear."
Dana loves that her teens can keep up. "They are on an adult schedule, so there is no need to be conscientious of nap time or eating schedules. Plus, they carry all of their own stuff and I no longer feel like a Sherpa."
However, teen independence can bring its own challenges and require a different sort of patience.
Dana: "They sleep late and are often hard to get up and out the door. Sometimes I long for the days when programs started at 9:00 sharp. It forced us to get to the mountain early and enjoy a full day of skiing."
Gina: "It's the nature of the beast. Teens and tweens, at times, exude an attitude of apathy about much of what happens in their lives and their blasé, or even negative attitudes about an upcoming trip can be a real rub. One tactic I take is to try not to trivialize their frustrations—there have been times when they've had to miss events with friends at home or had to spend a good portion of a trip working on a school project. There can be disappointment and stress involved and I can empathize with that. Still, there are ways to express that frustration without appearing to forget what a privilege it is to get to travel and ski. I think it's important that they learn to find that balance."
Mara finds her biggest challenge these days is keeping up with her young boys while balancing safety and fun. "They ski very fast and never stop. But in addition, my boys think of themselves as invincible as only kids that age can. I have to work hard to give them the freedom to explore the mountain and their own abilities and instill in them respect for the conditions and for their own limitations."
Parental Pride
When I asked the Mamas about their favorite family memories from last season, they were quick to share the special moments that really stuck with them – and how thrilled they were about their kids growing independence on snow and love of the outdoors. No matter the age, kids are full of pride-inducing surprises.
While Mara's boys are beginning to exceed her in speed and skill, she won't let that get her down.  Instead she relishes the fact that they love the sport as much as she does. "I had what I consider 'the' parent-who-skis moment with Tommy this past season – I realized that his skiing abilities surpassed my own. This moment came as we attacked the tremendously steep and technical Fall Line trail at Mad River Glen not once, but twice in a row. Both times he had to wait for me at the bottom. I called to him to stop at one point and snapped a photo of him looking up the hill at me, the Green Mountains spread out in the distance behind him, and I realized with a deep satisfaction that I had given him a gift – a gift of physical confidence, of natural beauty and of a love of mountains and the outdoors."
Gina: "Our eldest daughter went to Killington solo with her school ski club. I was apprehensive at first—we'd skied Killington only once as a family and there's a reason it's called the Beast of the East. With a bit of eye rolling from her, I offered a detailed 411 on the resort—what to expect at the different peaks, how to navigate from one area to another, trails I thought she should probably avoid—a few days before she left. As it turned out, she had an absolute ball with her friends, skiing all six peaks, spending a good portion of her time over at Bear Mountain, which I wouldn't have expected, and just generally enjoying her total freedom. It was a rite of passage that she embraced wholeheartedly, and, as it turned out, so did I."
Phoebe is the youngest child in the group and still in seasonal lessons, honing her skills. Mama Erica is constantly in awe of her growth. "On the final day of Phoebe's program at Bolton, she did a little race course with gates. She was fearless! She had some ups and downs this season, and it was incredible to see how much confidence she developed and how much fun she was having. I took a video of that race that I will treasure forever."
Why Vermont?
I told my parents when I was just 8 years old that one day I would move to Vermont forever. Even as a child I was drawn to the sense of community and love of the outdoors that is so present in Vermont. The skiing was just the icing on the cake and the calling that has kept me here for the past 18 years. The Mamas, two residing in Vermont, and two tenacious tourists, share my passion for the state and enjoy exploring new corners of it every year.
Gina and family are from New York, but have fallen deeply in love with Vermont over the past few years. "Whether we're dipping our toes into the Ottauquechee River on a wildflower filled hike at Quechee Gorge or snowshoeing along winding forest trails at Trapp Family Lodge, there's no end to the wealth of outdoor adventures to be had in Vermont. The entire Green Mountain State is a celebration of nature and we love that being a ski family means that we spend a good portion of the winter out in the fresh air. Each of the Vermont ski resorts has its own unique flavor and no matter what a family is looking for in a ski getaway, they'll find it in Vermont."
Vermonters Erica and Dana agree with me about the sense of community being a strong tie that binds. Erica: "Vermont is not only a beautiful place, but its sense of community is really strong. I love that you see the same familiar faces at the ski area every weekend, make new friends, and you always feel welcome."
Dana: "I grew up skiing in the Northeast. When I was younger my family spent weekends skiing at Windham in the Catskill Mountains of New York. I loved the tight knit community that skied there and seeing familiar faces on the lift and in the lodge each week. When I moved to Vermont and had children of my own, I was hopeful that they would grow up with the same type of ski experience. When the kids were younger and learning to ski, I found it comforting to know that that there would be watchful eyes on them even if I weren't skiing with them at that moment. The same is true today when they go off on their own with friends. Simply put, skiing in Vermont is a community experience and one that I want for my family."
Mara has the unique perspective of having roots in Vermont, as well as the longest drive to get here of all the Mamas. Residing in Delaware, she is the queen of family car travel. Her family's love of Vermont is what lures them here time after time. "We've been visiting the Mad River Valley since Tommy was a small baby and both boys grew up swimming in the river and hiking and skiing the surrounding mountains. I learned to ski at Mad River Glen as a child and so did both my children.
"Over the past few years we've had a chance to expand our skiing horizons to many other areas in the state, including southern Vermont and all of us love how friendly people are everywhere we go and how much physical beauty there is to be found whether it's the views of the Adirondacks at the Middlebury College Snow Bowl or the deep glades of evergreens at Magic Mountain. And I won't lie – the craft beer is a draw for my husband and me, while the boys, budding foodies both, enjoy trying new farm-to-table food everywhere we go."
Let the Adventure Begin
The Mamas have given me a lot to look forward to and motivation to get my growing family to the slopes. While I can't wait to enjoy powder days with my little boy, the Mamas have taught me great lessons: Be patient. Relish in every moment, every hurdle and every accomplishment, because they are all unique. And, when you're feeling like it is too hard or too complicated, buck up and put forth the extra effort. A lifetime of memories and a wonderful connection to the outdoors is waiting for every family that gets to the mountains.
 by Sarah Wojcik and the All Mountain Mamas as seen in the Ski Vermont 2018 magazine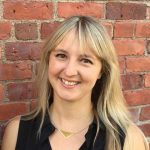 Sarah Wojcik is the founder of All Mountains Mamas. Becoming a mother in 2017, she grasped the opportunity to share her passion of skiing and snowboarding with families across North America. Formerly the Director or Marketing and Communications for Ski Vermont, she writes with great knowledge of the ski industry in Vermont and beyond, and from the point of view of a mother working to get back out on the slopes with a pre-schooler and baby in tow. She currently works for Ski Area Management magazine as an Associate Editor and wearer of many hats.