Driving along Route 100 towards Okemo Mountain Resort, snow encrusted trees create a winter wonderland, the likes of which you'd find in a children's fairytale book. My husband and I are meeting old friends and new for a weekend of skiing and eating at Okemo, and as we often do when we ski, we take home great memories and a new found connection to our inner child.
Orange is the new…
Our first goal is to check out the new orange bubble chair, the Sunburst Six with heated seats. As we approach, a crowd has collected and is forming into lines. Ugh – this is going to be a wait, I think. Boy was I wrong! This new Cadillac of chairlifts sits six people across and the long line moves much swifter than expected. We make it to the front within a few minutes and we start our ascent to the top. The bubble lowers with a normal safety bar and as we pass through the lift terminal our crew starts to feel the heat of the swanky soft seats warm our chilly buns. This is sublime and quite the luxury. We're so comfortable that we don't even notice the wind that picks up halfway up the mountain due to our orange enclosure. We all just sit, enjoy, and of course take selfies as we view the world through rose…I mean orange-colored lenses.
We spend the day playing in the 18+ inches of snow that Okemo received in early December and even get to follow some kids into low angle glades perfect for exploring. It's amazing to be skiing natural snow-covered glades this early in the season. I squeal in delight as my inner child relishes in the adventure.
Does this thing have snow tires?
Saturday night we are lucky enough to be treated to a snowcat ride to Okemo's Epic restaurant. Waiting for us there is a warming wood fire and a 5-course meal paired with adult libations. Epic chef Jason Tostrup – pardon the pun – outdoes himself as we get greeted with delicious course after course. They're not only delectable, but beautiful – real pieces of art.  The final course even deserves #foodstagram status.  Is that a fin in my dessert or a new terrain park feature at Okemo?
Mountain roller coaster? Check.
After a wonderful nights rest at the roomy condo at Jackson Gore, my husband and I take a few morning runs and get prepared to head home. There is one more activity though that is pulling at my inner child. Okemo has a roller coaster. On the mountain. Yup – gravity works in many ways here. I convince him we have to try it (like it's that hard). We both strap in and our individual carriages start the ascent up the mountain on the Timber Ripper. It's just like at a theme park and my fear of roller coasters from childhood almost returns. The view of skiers and riders playfully sliding around us and of the mountains calm my nerves, though. Once I get to the top, I can control the speed by pressing down on the brake to go faster. The sleds naturally slow down to a stop if you let go – good for mom's nerves when she sends the kids up alone! I let it go pretty fast and the exhilaration of flying down the mountain NOT on skis is odd and exciting. When I get to the bottom, my husband is trying to get his camera ready for a pic, but I'm too fast. Both unbuckled and on the ground, we give each other a look. Let's do it again! This time full-throttle. Cause our twelve-year-old selves say so.
Sarah Wojcik is the founder of All Mountain Mamas, and though not technically a mom, she is happy to have enough fun experiences on the mountain to satisfy both the adult and child found within. She can't wait to eventually share the love of the mountains with children of her own.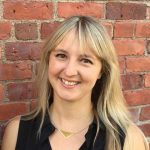 Sarah Wojcik is the founder of All Mountains Mamas. Becoming a mother in 2017, she grasped the opportunity to share her passion of skiing and snowboarding with families across North America. Formerly the Director or Marketing and Communications for Ski Vermont, she writes with great knowledge of the ski industry in Vermont and beyond, and from the point of view of a mother working to get back out on the slopes with a pre-schooler and baby in tow. She currently works for Ski Area Management magazine as an Associate Editor and wearer of many hats.