Welcome to Stratton
My daughter, Aria, was stoked and maybe a little nervous about her first-timer snowboard lesson at Stratton. Her nervousness was squelched quickly upon checking in at Stratton's Welcome Center. If you've never been to Stratton (or are new to any mountain), the welcome center is a great place to start your journey. With help from the welcome center staff, we were able to get the lay of the land, pick up a trail map, and check in for our One-Nighter package stay. From there we were directed to the rental shop to pick up our gear for the next couple of days on the mountain.
The rental process at Stratton is easy and efficient. Helmets, boots, bindings, boards, and beyond are all fitted to you personally, and the knowledgeable staff supported us at every turn. If you're new to snow sports, the staff makes recommendations on the myriad of sizes, lengths, and feel of a board. This helps to match your little one with the best possible board to ensure their success and keep them wanting more.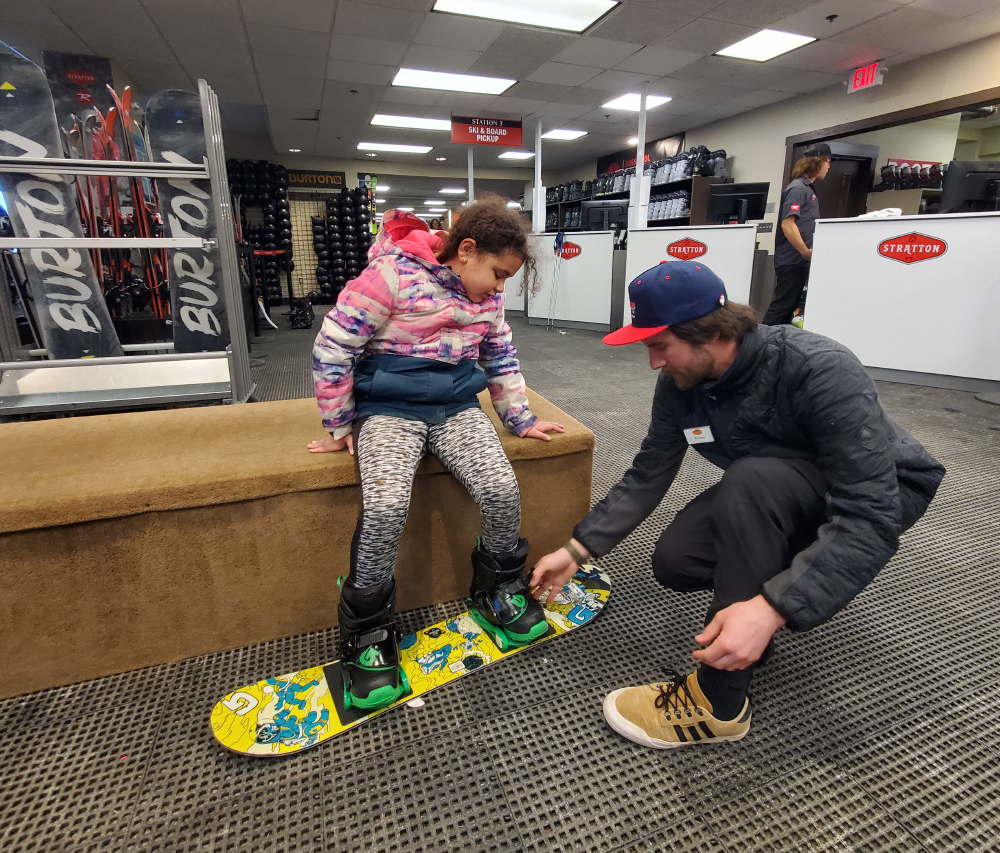 A lot goes into choosing the right length board. Back in the day, traditional snowboard sizing meant you stand next to the snowboard and if the top hits your chin, great, it fits. While that may be a good place to start, things like ability level, weight, construction of the board and type of riding you expect to do are also important factors in determining the appropriate board length. In short, have the professionals help you out when it comes to making the right choice.
Between our smooth check-in, rental setup, lessons, and tubing experience, we had a chance to get to know the wonderful staff across the mountain. Some are locals from Vermont with great recommendations on favorite trails and places to eat, but Stratton also has a relatively racially and ethnically diverse staff due to their exchange visitor program. We didn't only learn about snowsports on our trip. We learned from the staff about life in Chile, Jamaica, Argentina, and other parts of the world. As black snowboarders new to the mountain, it was really powerful seeing ourselves represented in some of the staff and it definitely made us feel more at home.
Pro Tips for Parents:
Stratton has a great app with everything from check-in details to parking updates, up-to-date snow conditions, and point-to-point navigation on the mountain!
Get rentals the day before. If you are planning your trip for an off-peak time, consider asking for early pick up of your rentals. This gives the staff a heads-up that you are coming and may allow for an early pickup of your gear the night before. This is especially helpful if you have a morning lesson or want to get a jump on the day and start early!
Learning (and Relearning) How to Snowboard at Stratton
First-timer, Aria
Since it was Aria's first time on a snowboard, we opted for the full-day lesson at Stratton. The Mountain Sports School offers both full-day and half-day options and takes kids as young as three. You can choose to book private, semi-private, or group lessons. It's worth noting that you'll need to buy your lift ticket in addition to the lesson and book a couple of days ahead to ensure you can get lessons when you are visiting.
Situated just past the rentals at the base of the mountain, The Mountain Sports Ski School is where Aria began her lesson. There are conveniently marked flags "Little Cub" and "Big Cub" which signal where to meet the instructors. Typically, kids ages 3-13 are grouped in either "Big Cub" or "Little Cub". The bigger kids head right out on the mountain for assessments. The younger kids, head inside to get their gear labeled. Ages six and under get a bit more time indoors.
Upon drop off the head of the school invited me to "Go have some fun!" and assured me that Aria was in great hands. The full-day lesson was ideal as it gave this All Mountain Mama a chance to find out where my lesson would be later in the day and get a little time in exploring the shops at the mountain. Stratton encourages the drop-off of the kiddos without too much parental intervention so that the kids and instructors can form a trusting and authentic relationship. Aria's instructor wasted no time and had her checked in, outfitted, and on the way to the beginner's hill swiftly.
Over the course of the day, Aria learned the basics of snowboarding: proper stance, how to skate, glide, and make J- turns. By the end of her lesson, Aria was feeling confident and most importantly so excited about snowboarding. It's always a good sign when the kiddo doesn't want to leave. Highlights of the day for Aria included choosing her favorite stickers on the 550-foot covered magic carpet which was decorated with animal and alphabet stickers (why not learn about wildlife and spelling while also learning to shred?),learning how to do toe-side J-turn, and getting to ride the bunny hill after her lesson with Mom.
Mama Gets Her Groove Back
For my adult snowboarding class, we were split into groups by ability level. As someone who had snowboarded in the past (albeit almost 20 years ago), I was excited to get back on a snowboard. I started with a beginner's lesson and got to know the other riders in the class fairly quickly. Our instructor was very committed to our learning and took the time to work with us as we made our way down the mountain. We covered many of the same topics in our lesson that my 7-year-old counterpart had learned that morning, so by the end of the lesson I felt confident that we could explore some more advanced trails on our next trip. This All Mountain Mama had officially gotten her groove back.
Stratton offers a ton of options for learning, but if you're new to snowboarding or just want to knock the dust off, a group lesson is a great opportunity to learn with others, make new friends (yes, parents make new friends too!), and enjoy the stellar views that Stratton has to offer.
Pro Tips for parents:
Make sure your little one has everything they'll need for their lesson. This includes their rentals, gloves, hats, hand warmers, balaclavas, snacks, and water. We use our handy guide on dressing kids in cold-weather gear to create a checklist.
Try to book your trip and/or lessons on a weekday, if you have a first-timer. It ensures a more mellow learning experience for everyone.
The Mountain
Stratton Mountain is laid out beautifully. Located on the highest peak in southern Vermont, it is approximately 100 miles south of Burlington, Vt., and 100 miles west of Manchester, N.H. This means incredible views in all directions. With nearly 100 trails and several terrain parks, Stratton is a hit with riders in both winter and summer.
The trails are immaculately groomed and there are high-speed lifts and a base-area promenade lined with shops and fine restaurants. One of the things we love about Stratton is the one-acre parallel teaching area. It's meant to help new skiers relax and focus on learning. Without the fear of faster skiers, beginners can build a foundation with basic skills, including stance, balance, turning, and safety. Whether you're just getting your groove back (or finding it in the first place), Stratton is a wonderful place to learn.
We loved that the mountain posts its safety recommendations as well. This gave us a clear set of expectations as new riders.
Rachel is the Owner/Transformationalist at Rachel Hailey & Associates Consulting, a firm which deals directly with the outdoor industry to foster DEI in organizations. Her main objective is to transform the outdoor industry into a diverse, equitable, inclusive and accessible space. Rachel is committed to creating an industry where anyone can experience, thrive, and lead in the out of doors no matter their circumstances, and has a focus on underserved and underrepresented communities. She has served and inspired over 100 organizations in the creation of actionable systems aligned with creating diversity, equity, and inclusion in outdoor spaces. She is a frequent writer for industry publications like Adventure Park Insider and Ski Area Management, and has given talks on DEI & Social Justice on international platforms.Outside of her endeavor to bridge the gap between racial and ethnic diversity in the outdoors and social justice, Rachel can be found hunting fairies in the woods with her daughter.