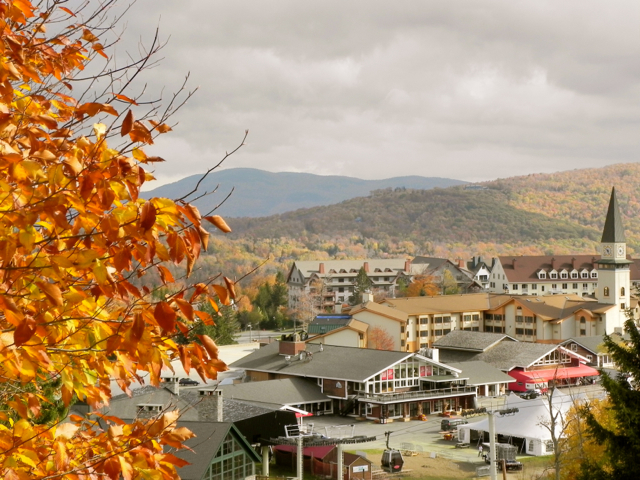 I didn't have my family with me when I visited Stratton Mountain Resort in autumn 2014, and was constantly saying to myself, "if only the boys were here they'd be having such a great time!" Leaf peeping may not be on most kids' agendas, but Stratton does a great job of making sure you'll all stay entertained while enjoying spectacular autumn beauty.
I recommend Stratton as a family destination to get some of that fabulous fall flavor Vermont is famous for – you'll find there's plenty to do, all of it easily accessible from mountainside lodging. In fact, you could park your car and not even get into it for the duration of your stay.
What is there to do at Stratton Mountain Resort in the fall?
Hike the mountain (and imagine skiing down it)
Hiking through Vermont foliage is a unique pleasure. Although I missed peak foliage for my end-of-October visit, it was still glowing and gorgeous while I was there. What's nice at Stratton is that there are several different hiking loops to do right on the mountain, so if you're staying in the Resort Village you can go for a hike without having to drive to a trailhead. I hiked the 2.9-mile Lower Mountain Loop and was rewarded with views of a peaceful pond, distant mountains, and falling leaves.
Even the empty chairlifts that were being worked on took on a sculptural quality.
This trail would be perfect for kids of just about any age (when mine were younger we could easily have done this loop with one of them in the backpack carrier). I'm sure that my boys would love the chance to talk about which of the trails they'd like to ski down in the winter.
Stratton also offers longer and more challenging hikes nearby on the Long and Appalachian Trails.
Take a ride above the trees
Stratton runs its gondola on weekends and some weekdays through the beginning of October. The cabins were new in 2014 and the ride is comfortable and fun.
There's a short easy summit loop hike that includes a fire tower, or, if you'd rather walk than ride down, you can easily hike back to the Village.
Party in the village
Visit Stratton over Columbus Weekend and enjoy live music, a brew fest with free carnival games, hay rides, a chili cook-off, and caramel-apple dipping.
I caught the tail end of this fun party when I arrived last year and enjoyed watching kids get their faces painted or their caricature drawn.
Even if you can't make it for the festival weekend, the Village is a great place to hang out with kids. While you shop for your winter wardrobe, they'll be happy hanging out at Mountain Sweets.
And when it's time to eat you'll find lots of great food from pizza to sandwiches. I highly recommend the cider donuts from the Stratton Mountain Deli – it was the perfect pick-me-up after my hike.
Relax or get your fitness game on while the kids swim
Stratton has a variety of ways for grownups to stay fit from aerobic to ahhh. There are mountain-top and mid-mountain yoga classes (which I sadly missed – they run through Columbus Day) as well as sessions in the gorgeous fitness studio The Living Room. I'm not sure what I enjoyed more – the soothing class or the view out the windows.
Stratton also has a full-service fitness center with tennis courts and an indoor pool. I got some great weight-training tips from one of the pros there, and could easily have imagined both my boys enjoying a swim while I worked up a sweat.
And you can get a facial, manicure, or do like I did and enjoy an amazing massage at the Stratton Village Day Spa.
Stratton Mountain Resort is an easy drive from both the New York City and Philadelphia metro areas and makes a perfect long weekend getaway. Check the website for deals on fall stays, including their family package for Columbus Weekend.
Mara Gorman may live at sea level now, but she's a native New Englander and mountain aficionado who grew up skiing in Vermont. She spends as many days each winter as she can chasing her two teen boys through glades and across mogul fields and regularly journeys far and wide to get on the slopes. Mara blogs about her family's many travel adventures at The Mother of all Trips. She is also the author of The Family Traveler's Handbook and an award-winning freelance writer whose work has appeared in various USA Today print publications as well as on websites such as BBC Travel. When there's no snow, Mara and her family can be found hiking, biking and eating around the United States and Europe.