Sarah: Rachel Hailey, welcome to All Mountain Mamas. We're so happy you're joining us on this adventure into Vermont's Green Mountains. Help us introduce you to our readers. Tell us a little about yourself and family.
Rachel: Where to start? I am 39 years old and have daughter, Aria, who is going on six. She is literally the coolest person on planet. I live in North Adams, Mass., but I'm originally from Boston, and had like a whole mix of city life and rural life growing up.
Sarah: Prior to starting your own DEI (diversity, equity and inclusion) consulting company, you were the Canopy Tour Manager at Zoar outdoor in Massachusetts, so you have a background adventure education, facilitation, and training.
Rachel: Yes, I managed the zipline canopy tour at Zoar outdoor adventure resort. Aria and I called it growing up Zoar. That was my hashtag, ha. From the time that she was five months, doing tummy time on the front lawn at Zoar, to when she started kindergarten, it was sort of this community that was helping to raise her, which was amazing.
I couldn't have asked for a better experience running the tour. And I think had I not been drawn to diversity equity inclusion in the outdoor work, I would still be doing that.
Sarah: Tell us a little about your other outdoor experiences throughout your life.
Rachel: Sure. My biggest outdoor pursuit has been climbing. I've spent a lot of time in the White Mountains, playing around up there and sort of got my chops as a climber in that outdoor space. I've also hiked the whole presidential range Anywhere that has a trail head nearby, Aria and I hike.
My winter outdoor experience has been very limited up until now. I learned to snowboard locally in my twenties., I had a great teacher who taught me a lot and it was incredible, hilarious, and super fun. I was sort of a natural at it, but life just got in the way. And now all of a sudden here I am at 39, like, ooh, let's like learn how to do that again.
Sarah: You've been writing for several publications in your consultant role. Have you always loved writing?
Rachel: From like the time I was 10 or 11, I have been writing consistently, whether it was little short stories as a kid, or my family newsletter. I wrote religiously, and every three months I would update the family on what we were doing. It still carries now in my adult life.
Professionally, I've been writing for adventure park and ski trade magazines, but I'm also in the process of publishing a series of children's books based on all of these adventures with Aria. I've been compiling stuff for the last five years.  I have an email account for her that she doesn't know about and I've been putting stuff into it since she was born, like little photos and notes. One day I sent her an email about one of our adventures and I said, oh, this actually has the makings of a really cool kid's book. And while I'm at it, I can challenge the narrative about brown kids outside, single momming and what that can look like for people.
Sarah: We're excited to get you and your daughter, Aria, to a few of Vermont's resorts this summer. What are you and Aria interested in and what do you think she'll be most excited about?
Rachel: The sky is the limit when it comes to activities and attractions and Vermont has so much to offer. We're just excited for an authentic, welcome escape filled with outdoor play. Personally, I'm also always looking through that diversity and equity and access lens. I'm wondering, "How will we be received at the mountain?" Then as far as Aria, she's open to anything. She's a really adventurous kid. Anything that goes fast, she's all about.
Sarah: Moving to winter, you're just getting back to snowboarding and Aria is new to the sport? What are you most excited about? What do you hope to get out of the season?
Rachel: We're so ready to glide on snow on this winter. For Rachel, the adult, it'll be me relearning how to snowboard. I'm looking forward to experiencing the process of diving in as a beginner and ending the season with tools and skills to move forward, plus a ton of great memories. I'd love for us to end the season with a clear avenue for us to become winter sports participants.
I think for Aria, she's interested in all aspects of the sport. She's an inquisitive kid, you know? She wants to know how the lifts work and why these boots look this particular way and ski boots another. What is the magic carpet? So on top of learning to snowboard and/or ski, she wants to know all the details of the mountain.
Sarah: Are you both going to focus on snowboarding this year or do you think you'll mix it up?
Rachel: We're open to mixing it up for sure. Her dad's skis downhill, so there is an avenue to try that there. I know nothing about downhill skiing, but I cross country ski. Downhill skiing would be a totally new adventure for me.
Whether skiing or snowboarding, it would be really cool to get lessons together. I'm just as green as Aria, so it would be fun to learn together.
Sarah: In your coverage over the next year, what are you excited to share about your experiences?
Rachel: I'm so excited to do this because I know that I'm going to learn so much in this process that I can share with other people. I want to walk away saying "Hey, here's how, as a single black woman, I showed up at ski resorts this winter and wound up creating this really incredible experience."
After experiencing a winter on the mountain and writing about it, I would love to become a representative voice for others that are curious about getting outside in the winter or summer. I hope they can say, "Well, Rachel and Aria managed to figure it out and here's how they did it. So maybe it's possible for us, my family, as well."  That's the big goal for me. It's probably the reason I'm so excited. I just feel very grateful and inspired to be able to a model for others that are interested in doing this, you know?
Sarah: That's an honorable goal, and I have no doubt you'll reach it. We're so excited to be able to share your adventures on All Mountain Mamas and can't wait to read about your experiences through the summer, fall, and winter. Thank you so much for joining us!
Stay tuned for adventures with our newest Mama, Rachel Hailey, and her adventurous daughter, Aria.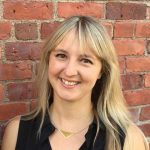 Sarah Wojcik is the founder of All Mountains Mamas. Becoming a mother in 2017, she grasped the opportunity to share her passion of skiing and snowboarding with families across North America. Formerly the Director or Marketing and Communications for Ski Vermont, she writes with great knowledge of the ski industry in Vermont and beyond, and from the point of view of a mother working to get back out on the slopes with a pre-schooler and baby in tow. She currently works for Ski Area Management magazine as an Associate Editor and wearer of many hats.