My mother isn't a skier. So when I put tiny (yet somehow still oversized) boots on my one-year-old in our ski-in/ski-out condo at Jay Peak, she shook her head in disapproval, and said "You're torturing the poor kid." I flashed her my "Love you, Mom!" grin and happily suggested she might be wrong. My father was as excited as I was a pulling out his phone to document the big moment.
My dad started skiing in his mid-thirties, my husband in his twenties and I started when I was around eight years old. We were all thrilled that Ollie would be skiing before any of us did, thinking about how fortunate he was and how epic of a skier he may one day be. (No pressure little dude!) So while out of respect for my mom, I feel like this post should go the way of "my mother was right", that would be poor reporting. Ollie loved sliding on snow with us and so it was recorded, shared and hashtagged #raiseemjay for posterity. My mother even grudgingly admitted that he was doomed to be an adventure junkie like the rest of us.
Of course to provide some perspective, my child's first epic skiing adventure actually lasted about ten minutes thanks to Jay Peak's easy, family-friendly set up. We hiked a few feet outside of our condo onto a condo access trail, and I skied backwards holding Ollie upright for about 30 yards. We let him play on a flat area, moving the skis back and forth with much enjoyment and then my husband skied with him another few yards. That was enough for the day. It was enough for a whole vacation in my mind. But happily there was so much more to our Jay Peak ski vacation, for Ollie, my mom and the rest of us.
The seed for this trip was planted, watered and fully developed all in about two hours. I texted some of my closest friends and my parents and proclaimed we were all going to Jay Peak for the first weekend in March, if they could commit within the hour, because I just found a sweet slope-side double condo that would assure everyone their own bedroom and bathroom and good space for the kiddos to play. We were four couples with three kids under two, but a three-night stay cost only about $625 per couple. Commitments were made, money was exchanged and the multi-family, multi-generational Jay Peak trip was ready to go.
We arrived on a Thursday night and settled in the Village condos. We had two floors, both with kitchens, living rooms, and two bedrooms and bathrooms each, all connected by an open staircase. It was perfect for our big group and we each claimed our rooms and decided that the upstairs unit with large windows would be our adult hangout while the downstairs unit would serve as the quiet nighttime space, perfect for little ones.
Pro Tip: Slope-side condos and multi-family trips are my mantra as a new-ish Mama. With kids who aren't ready for ski school, we need to be flexible and creative if we want to get out on the slopes. Location is key, so we aren't wasting time schlepping gear and small people. A group of adults (hello, grandparents!) also gives everyone the opportunity to swap out responsibilities, like entertaining toddlers and cooking meals, with time to ski or even get out for a meal or drink with the partner or friends.
We kept it simple with three (ok, four) major goals for this ski trip: Ski. Eat. Relax. Waterpark. All with friends and family.
Family Feasts
When we travel with a group, we bring our foodie friends who like to cook. Splitting up meals via a spreadsheet before the trip means each crew takes responsibility for groceries and cooking at least one meal, sometimes two if the stay is long enough and we don't want to go out to eat at all. Because wrangling toddlers in a restaurant doesn't make for a very relaxing meal, we didn't plan a dinner out with our entire crew. We did however, plan a few getaways in smaller groups.
The first night we arrived, it was decided that the moms deserved an evening out, so three of us headed to Alice's Table, located in the Tram base area. We called ahead and made a reservation since it was a weekend, but realized later that our late arrival mean this wasn't strictly necessary. Alice's Table's is probably the "fanciest" restaurant at Jay and we ladies enjoyed fine cocktails, wine and appetizers to split. However, it's also a great place for families with plenty of large tables and a sprawling layout.
While the dinner with girlfriends was lovely, my favorite on-hill meal of the trip came out of the inside of an old tram. Miso Hungry is an amazing ramen food cart that is located in the base area near the tram lift. It's really some of the best ramen I've ever had and you can order it super spicy if that's your jam (as it is mine). Take it to-go back to your lodging, or eat out in the elements while watching skiers go by or the newer tram float overhead.
Skiing at Jay Peak
If you ask people who love Jay Peak why they love it, and they might mention the Jay Cloud. This weather phenomenon draws powder lovers from all over the East Coast; in fact, Jay has been known to boast more snow than resorts out West. While our trip didn't coincide with one of these weather events (in fact the rest of Vermont was getting snow instead of Jay, which is quite rare),  we still had the full mountain to explore as March tends to be the snowiest of months, and coverage was up to par.
Split into two base areas, Stateside and Tramside, Jay offers plenty of varied terrain for intermediate and advanced skiers. It's a big enough mountain that you might feel a lost or turned around when trying to navigate, but I've always thought that's been part of the fun of it. I do suggest that when you are navigating with family, choose a side as a meeting point in case you get separated. Another tip: the great signage for Stateside and Tramside throughout the mountain will get you to where you need to be with little trouble – but you gotta read the signs.
On this trip I got to experience the beginner area at Jay Peak. Our friends had their two-year-old daughter in tow and decided to rent gear and get her out on the bunny slope. The experience was surprisingly easy, mostly due to our location.
Our village condo was located near the top of the Grammy Jay. A short walk through the condos takes you to the top of the beginner area. Another short walk takes you down to the Stateside base area and the rental shop is right through the slope level doors. Rentals for toddlers are $20 a day, which is nice, since parents have way of knowing just how long their little one will last in the cold and snow.
The rental shop was quick to outfit Evie and they hit the slopes with no drama. Evie squealed with glee as her parents slid with her down the beginner slope and the covered magic carpet lift got rave reviews. We even reused the rentals for Ollie's excursion just outside our condo.
Just Add Water
While the Jay Cloud might draw the powderhounds, the Pumphouse waterpark at Jay Peak is the clincher for families. An indoor waterpark where it's always 80 degrees in a state where winter last 6 months? That's a nice escape. It's also a great alternative activity for kids of all ages and sizes. While activities for toddlers are a bit limited, there is a great play space for smaller kids and parents can take little ones on an adventurous ride on the Big River.
Need more reasons to go to the waterpark? Parents can test their skills on the FlowRider surf machine and their resolve on the floor dropping slide called La Chute. Plus, there is a balcony bar where you can watch all the activities in the park from the comfort of a warm, dry chair.
Pro Tip: Stay anywhere in the Jay Peak village and enjoy free transportation around the resort. Just a call away, shuttles are available throughout the day and night. It was great to ride over to the waterpark all together and not have to schlep gear in cars and find parking. We didn't move the cars for three days. 
This was the second year in a row that we planned a multi-family trip to Jay Peak; the first was just two months after Ollie was born and during a Jay Cloud event. I think it's safe to say that despite my mom's worry that Ollie might be a bit young to hit the slopes, this will probably become a family tradition. I'm already thinking about how next time, he'll be able to ski a bit on his own. But even more than that, I look forward to seeing all the memories  he is making with his grandparents. Thanks to Jay, there's something for everyone, regardless of age, weather, or desire for adventure.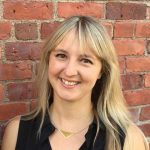 Sarah Wojcik is the founder of All Mountains Mamas. Becoming a mother in 2017, she grasped the opportunity to share her passion of skiing and snowboarding with families across North America. Formerly the Director or Marketing and Communications for Ski Vermont, she writes with great knowledge of the ski industry in Vermont and beyond, and from the point of view of a mother working to get back out on the slopes with a pre-schooler and baby in tow. She currently works for Ski Area Management magazine as an Associate Editor and wearer of many hats.