Teaching children how to ski and snowboard is no easy gig. That's why we should leave it to the professionals. (Head here for lesson tips.) That said, even when kiddos get lessons, as parents, you will still spend plenty of time on the learn-to-terrain or the "bunny hill" of a resort during the first years of their progression.
As a parent of two young kiddos that are just getting their feet under them, I took to the resorts of northern Vermont to get a feel for each learn-to area and to extrapolate on their pros and cons. It's amazing what small details can make or break a great day on the slopes with tiny humans. Proximity to the base lodge can mean the difference between making the trip to the toilet or ending the day early. Covered lifts can be a needed break from the weather. Amusing amenities can distract or soothe a frustrated kiddo. In these beginner areas, the little things matter. So, use this guide to find the right beginner destination in Northern Vermont for you and your family.
Stowe – Best for Amenities and Views
Stowe's learn-to terrain is located at Spruce Peak, home of a huge timber lodge, skating rink, food trucks, toy and candy stores, and much more. If you need a break from the slopes, you have plenty of options to entertain the kids and grab food and drink for yourself.  Other pros include two magic carpets (conveyor belt lifts) on low-sloped learning areas and a beginner hill that doesn't have access from above. The adventure triple has space all to itself. Why does that matter? No speedy traffic from harder terrain comes into this area, so no speedy riders are a nuisance to your learning kiddos. Also, the views from this trail are amazing. I'll let photos tell that story.
The downside? Most of the parking is across the street, and you'll need to lug the family and belongings up a short hill to the Over Easy gondola. The kids love the gondola, though.
Pros: Hopping base area with lots of amenities. No traffic from above. Views. Fancy hot chocolate.
Cons: Distance from general parking.
---
Bolton Valley – Best for "Learning the Ropes"
Bolton Valley's beginner area is accessed by the Mighty Might, a short rope tow right outside the main base lodge. You can follow up with one of the two double chairs nearby for a nice variety of more advanced beginner terrain once the rope tow is mastered. The rope tow itself is both a pro and con. It can be a challenge initially, but older kids catch on quickly and love it. For parents with little ones, if you're comfortable on your skis, it's easy enough to hold little ones between your legs, but less so as they get bigger. On a snowboard? Not the easiest to assist.
Bolton's other pro is the family-friendly vibe. A local haunt with a laidback feel, great tavern, and cheery disposition. It's easy to feel comfortable and unjudged, no matter your experience.
Pros: Proximity to the main lodge. Local vibe. Solid beginner terrain. Good food. Rope tow.
Cons: Rope tow.
---
Jay Peak – Best for Terrain-based Learning
Jay Peak, the most northern ski resort in Vermont, has got you covered, literally. Covered surface lifts access beginner terrain on both sides of the mountain, Stateside and Tramside. They also protect beginners from the elements, like wind and snow. On stateside, the moving carpet brings you to a terrain-based learning area where sculpted slopes help new skiers and riders comfortably progress. Both sides also have nearby lifts that access a variety of mellow beginner terrain and fun low-angled glades to get beginners introduced to tree skiing and riding early on. The only downside is some other trails from the mountain filter into these areas, so beginners sometimes encounter cross traffic.
When beginners (or their teachers/parents) are ready to refuel, the famous Miso Hungry tram is just a few steps away on Tramside, and delicious poutine awaits Stateside.
Pros: Covered conveyor lifts. Options at both base areas. Great food options.
Cons: Proximity to high-traffic areas.
---
Sugarbush – Best for Future Park Kids
If you're not familiar with Sugarbush Resort, it's actually comprised of two mountains, Lincoln Peak and Mount Ellen. They are connected by the longest chairlift in North America, which is a joy to ride on a sunny spring day. That said, most visitors stick to one or the other peak. Luckily both have learn-to areas. Lincoln Peak is larger with more amenities, and the beginner area there is first to open and last to close. It's located just a few steps from the bustling Gate House lodge and can be accessed from the Schoolhouse, which houses ski school, and the Farmhouse (rentals and great coffee). Two conveyor lifts progress beginners from never-evers with very little slope to the Welcome Mat, with a bit more pitch. The Village Quad then accesses a nice wide beginner run to continue progression.
On Mount Ellen, the beginner area runs alongside the terrain park and offers great views of the jumps and rails, entertaining everyone from beginners to pros. Tommy's Toy, a rope tow, accesses the first-timer terrain, while the Sunshine Quad travels above the park and accesses more green circles that are great for beginners.
The only downside to both peaks is that access to some of the beginner areas is susceptible to speedy traffic, so parents need to keep a watchful eye.
Pros: Lincoln: Progressive options. Proximity to lodge. Dedicated beginner peak.
Pros: Mount Ellen: Terrain park views.
Cons: Speedy traffic.
---
Enter to Win Lift Tickets!
Have any tips yourself? Share them in the comments for future readers and be entered to win four lift tickets to your Vermont resort of choice for this season. Contest rules can be found here. Five winners will be chosen Monday, January 16.
Stay tuned for more reviews of learn-to terrain at ski areas in Vermont.
Looking for great ski deals in Vermont? Head here!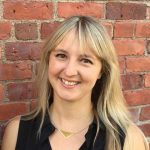 Sarah Wojcik is the founder of All Mountains Mamas. Becoming a mother in 2017, she grasped the opportunity to share her passion of skiing and snowboarding with families across North America. Formerly the Director or Marketing and Communications for Ski Vermont, she writes with great knowledge of the ski industry in Vermont and beyond, and from the point of view of a mother working to get back out on the slopes with a pre-schooler and baby in tow. She currently works for Ski Area Management magazine as an Associate Editor and wearer of many hats.