Fireplace? Check.
Gorgeous views of the Green Mountains? Check.
Comfy beds? Check.
Access to snow sports? Check.
Hot tub? Check.
Other than the obvious essentials like food, beer and wine, this is what I need to have a great vacation. Add in my husband, son and the grandparents, and it's the recipe for a perfect late winter family retreat.
Welcome to Mountain Top Inn & Resort
Not familiar with this wonderful destination? Mountain Top Inn & Resort is tucked away in a beautiful mountain valley in Chittenden, Vermont, just 11 miles away from Killington Resort and steps away from 60 kilometers of epic cross country skiing terrain. It boasts an inn with over 30 rooms and a rich history, 4 cabins, 23 guest houses (some pet friendly!), a full-service spa and salon, a plethora of outdoor and indoor wedding venues, a newly renovated dining room and tavern, and one of the most unique amenities, horses – yes, horses.
My family and I stayed in the Trillium Cottage at Mountain Top for 2 nights in late March after multiple nor'easters pummeled Vermont with snow, thus extending the wintry ski season. My son Oliver and I drove down along Route 7 from Burlington, past Vermont's quaint towns and through the village of Chittenden to get to Mountain Top and our new digs. Upon entering the cottage, I was immediately drawn to the view. Many of the cottages and guest houses overlook the meadow above the Inn and ours was adjacent to sweeping views of the Green Mountain National Forest.
The interior of the cottage matched the view's beauty and ruggedness, with leather and wood accents, a rock chimney fireplace and special Vermont-y details in every room. I imagined spending a beautiful summer day on the screened in porch before noticing there was a hot tub parked just feet away from the door that also boasted the mountain and meadow views. I knew I'd be in that several times during my stay, including post dinner with a local craft beer in hand.
Pro tip: Try a multi-generational family vacation. Shared space often means nicer lodging for similar or even cheaper pricing and of even more value – time together with your larger family. (We do this with friends, too!)
My husband and parents arrived a few hours after Ollie and I had settled into our home for the weekend. Along with them came the furry family member, Heidi. Yes – Trillium is one of Mountain Top's pet friendly cottages and they cater to the dog family member just as thoughtfully as they do humans. A big fluffy bed and local dog treat welcomed Heidi's arrival and she settled in just as quickly as we did. It was such a treat to have her in tow for one of our ski trips (and to not have to find someone to watch her).
Pro tip: Booking pet friendly lodging saves on pet boarding, sitting and/or walking and cuddles with the pup are priceless!
Once we had dinner underway and were relaxing in our rustic-lux cottage, it was time to loosely plan out our stay at Mountain Top. We had a lot of activities to choose from but wanted to balance them with relaxing moments as a family. With snow on the ground, skiing – both downhill and cross country – were definitely on the agenda.  I also wanted to explore the spa, equestrian center, and the Inn and dining options…
The master bedroom and bath were swooned over by the whole family.
Treat Yourself at Mountain Top's Spa
Our first full day at Mountain Top started a bit foggy and so we took the opportunity to snuggle in, sip coffee and play with Ollie at the Trillium cottage. With grandparents on hand to help watch him, I took the opportunity to explore the spa and treat myself to nice manicure to ring in the coming of spring.
Use of the resort's sauna, hot tub, fitness center and outdoor heated pool (summer only) are available to all Inn, cabin and guest house guests, and the full-service spa offers signature treatments including massages, facials, scrubs, wraps, manicures and pedicure, and professional hair and make-up (perfect for wedding parties!). Before sitting down to a relaxing manicure, I toured the facility and reprimanded myself for not booking a nice couples massage for my husband and me. The steam shower located in the massage room was particularly enticing.
Pro tip: During multi-get trips take advantage of grandparent care – even if only for an hour or two – to plan quality time with your partner. We all know it can be hard to come by!
Aside from the relatively typical characteristics you find at most spas, what resonated with me at Mountain Top was the laid back feel of the spa. I have a confession – spas intimidate me. I feel out of place in high-end spas, like I don't know the "spa code" for luxuriously relaxing. The rustic charm that resonates through all of Mountain Top's décor made me feel much more at home than a brightly lit, white-washed spa. The staff was no-nonsense and friendly without feeling stiff, and I didn't feel like I needed instructions on how to serve myself complimentary tea. If you're anything like me, Mountain Top's spa is the atmosphere you're looking for in a spa experience.
Family Sleigh Ride
Before strapping on skis after lunch, I booked the whole family for an evening sleigh ride. Ollie had never met a horse before, so scheduling a sleigh ride was at the top of my to-do list, and it was definitely the highlight of Ollie's trip.
Pro tip: When traveling with a baby or toddler, note which activities you need to book in advance and call ahead. Try leave at least half of each day with some room for flexibility, because, well…babies.
We walked to the equestrian center about 20 minutes prior to the ride, so we could "meet" the horses. Luckily, there was a beautiful. not-shy horse sidling up to the fence as we arrived. We regretted not bringing one of the apples we had at the cabin but preceded to give him a pat and introduce Ollie to the huge beast. He giggled in delight as the horse sniffed and neighed but was a little wary of getting too close, so we moved on to the Nordic Center to prep for the ride.
A beautiful sleigh with two red Percheron horses pulled up to the nordic center, moving to the light commands of the driver. We settled in the sleigh with blankets over us as we pulled away and across the meadow we viewed from our cottage. Changing views of the Green Mountains above and Chittenden Reservoir below entertained the adults, but Ollie only had eyes for the large beasts pulling us along. When he wasn't snuggling with one of us under the wool blankets, he was angling to get views of the horses and squeak in delight.
Dining at the Mountain Top Inn
After our horse drawn sleigh ride, we headed to the Mountain Top Tavern for dinner and drinks. The tavern is located at the lower level of the Inn, adjacent to the dining room that we enjoyed breakfast in earlier (which was being renovated just days after our visit). Ollie needed to get some wiggles out so while our table was getting set, we did some exploring.
Upstairs the lobby afforded more beautiful views of the surrounding mountains, and adjacent to it is the "family room" as I call it. Outfitted with comfy couches and chairs, it also boasted a large TV and cabinets full of toys, games and puzzles for kids. Had we stayed at the Inn, we'd have spent lots of time in this space entertaining our curious toddler. As we moved down the hallways, Ollie and I took in some of the history of the Inn and read the headlines of media accolades posted along the wall. I love learning about the places I am staying and their rich history. Reading up on it's history is something every guest should do once they arrive at Mountain Top.
Downstairs our food had arrived, so I hurried Ollie into his high chair so I could relax with my local brew and feast on a delectable serving of fish and chips with fries and a side salad. My family members opted for a selection of burgers topped with Cabot cheddar cheese, Bayley Hazen blue cheese and truffle aioli. It was the perfect way to end the perfect day at Mountain Top.
Skiing, Skating, Sledding and More
The morning of our departure turned out to be a bluebird day so we were quick to get out on the freshly groomed cross country classic track with Ollie and spend time exploring the trails that routed up into the mountains and down to the Chittenden Reservoir that attracts lots of visitors in the summer.
While cross country skiing at Mountain Top and downhill skiing and snowboarding at Killington or Pico down the road are top winter activities for the Inn, they also offer access to Vermont's VAST snowmobiling trail system. Guests can book a 30-minute tour during the 2018-19 season that takes them around the resort's property. The Inn is also accessible from the VAST trail system for those looking for somewhere to stay along the way. Not into skiing but want to explore the mountain? Try snowshoeing on the trails, and bring a chef prepared lunch to enjoy along the way. For the 2018/19 season, Mountain Top will also be offering ice skating.
We're excited to return in the summer to explore the resort even more, and again next winter to give the ice skating and snowmobiling a try! Interested in learning more about our cross country experience at Mountain Top and to get tips on cross country skiing with a kiddo? Look for my post in Fall 2018 to get excited for the 2018-19 season.
Looking for a summer family destination? Mountain Top offers great access to the outdoors of Vermont with hiking, swimming, tennis, golf, biking, fishing and best of all, horseback riding. I recommend staying at the beautiful Trillium cottage if you go!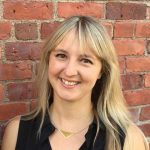 Sarah Wojcik is the founder of All Mountains Mamas. Becoming a mother in 2017, she grasped the opportunity to share her passion of skiing and snowboarding with families across North America. Formerly the Director or Marketing and Communications for Ski Vermont, she writes with great knowledge of the ski industry in Vermont and beyond, and from the point of view of a mother working to get back out on the slopes with a pre-schooler and baby in tow. She currently works for Ski Area Management magazine as an Associate Editor and wearer of many hats.