It's one of our favorite times of the year. As the weather chills, we dream about winter and start to don puffy jackets and sip warm beverage. But the best part, we get to watch the Green Mountains of Vermont transform into a colorful canvas of reds and golds. Peak foliage in Vermont may be the best time of year to hike and take in the scenery, and it is just around the corner at Vermont resorts.
Here are a few sneak peeks of color now popping on Vermont peaks, from south to north. Remember our southern peaks turn later than the northern ones, so you'll see a nice progression as you scroll down.
Southern Vermont Color
Central Vermont Fall Foliage
Northern Vermont Peaking Soon
Looking for way to get out and enjoy peak foliage in Vermont? Check out these autumn activities at Vermont ski resorts.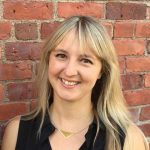 Sarah Wojcik is the founder of All Mountains Mamas. Becoming a mother in 2017, she grasped the opportunity to share her passion of skiing and snowboarding with families across North America. Formerly the Director or Marketing and Communications for Ski Vermont, she writes with great knowledge of the ski industry in Vermont and beyond, and from the point of view of a mother working to get back out on the slopes with a pre-schooler and baby in tow. She currently works for Ski Area Management magazine as an Associate Editor and wearer of many hats.