I'm not sure what my family looks forward to more when we're on a Vermont ski trip – days on the mountain or evenings spent sampling all of the ubiquitous delicious local food. If your kids are like mine, they end their ski days ravenous and ready for a hearty meal. Happily, the Mad River Valley – home to Sugarbush and Mad River Glen ski resorts – has a great selection of family-friendly restaurants that your kids will love and that also serve food for grownups, with nary a French fry on the plate.
Here are my top recommendations for family dining in the Mad River Valley:
Hyde Away Inn
This iconic ski bar has been around for ages but the Hyde Away Inn now houses a farm-to-table restaurant that serves gourmet food in a warm, casual atmosphere – perfect for families. Portions are generous and the food is varied and truly delicious – on our many visits there we've enjoyed New England seafood chowder, really super chicken wings with a variety of preparations from maple to bourbon BBQ, caramelized Brussels sprouts, traditional meatloaf crafted from beef and pork that was raised just up the road and rack of lamb served with a fabulous eggplant caponata. They have loads of Vermont beers on tap, cocktails made with local spirits, numerous gluten-free menu items, and fast and friendly service. You can eat in the main dining room, in the tavern, or, in warmer weather, outside. On winter weekends or during holiday periods a reservation is a must.
The Mad River Barn
Another long-time Valley favorite has been recently overhauled. The pub at the Mad River Barn is après-ski nirvana for families – not only is there a great bar and huge roaring fire, but kids can play foosball, shuffleboard, and air hockey in the large lounge area. You can dine off of the full menu either in the pub or downstairs in the cozy dining room. My family adores the arancini, which are fried rice balls filled with smoke gouda cheese and served with a tomato dipping sauce. Other favorites include the meatballs and the mac and cheese made with Vermont cheddar. This place is always hopping; if you want a guaranteed seat, make a reservation for the dining room. Or take a chance and sip a drink in the crowded pub while you play Cards Against Humanity and wait for that table by the fireplace.
The Mad Taco
If you follow the locals they will definitely lead you to this funky restaurant where the playlists are often as great as the food (the last time I walked in it was to the sound of "Safety Dance" by the one-hit-wonder Men Without Hats). In addition to a wide variety of fun and inventive tacos made with local ingredients like smoked pork belly – cooked aromatically in a large smoker that sits in the parking lot – and roasted yams, The Mad Taco also serves tortas, burritos, quesadillas and soup along with a variety of house-made hot sauces creatively named things like Creepy Neighbor and Thai Fighter. There's also a rotating selection of Vermont craft beers on tap. Their family platters are a great deal and for feeding a crowd and they also have a kids menu. You can get everything to go but their dining room is so comfy and casual that you might find you want to stay.
The Blue Stone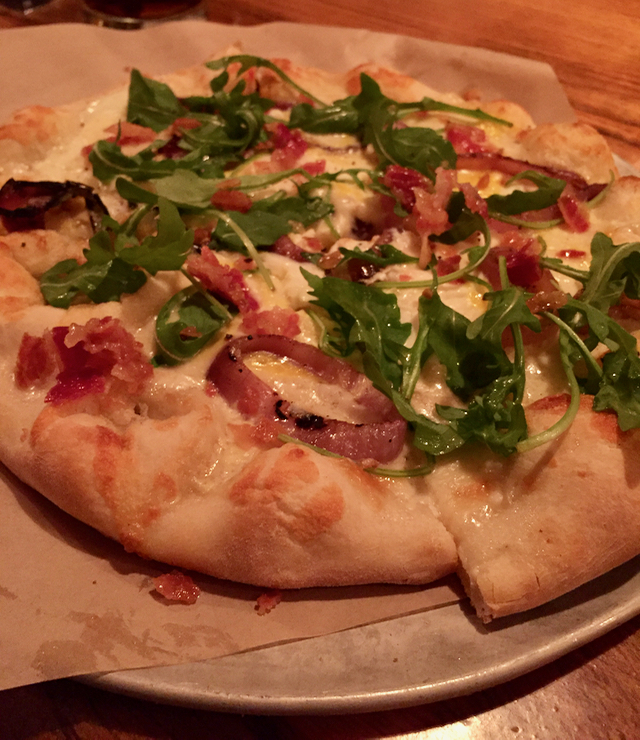 After operating successfully in nearby Waterbury for several years, this popular gourmet pizza restaurant opened a branch in Waitsfield, just minutes from both Sugarbush and Mad River Glen. One thing that's fun about the Blue Stone's menu is that they have two or three blackboard pizzas that change regularly. These always include an interesting (and delicious) mix of ingredients; the last time we were there we sampled one that had bechamel sauce, goat cheese and Vermont duck breast – it was divine. They also have a list of signature pizzas that are always on the menu; my younger son loves The Woodchuck, which comes topped with tomato sauce, smoked ham, apple and chicken sausage and Vermont cheddar. Pizzas come in both a smaller personal size and  a 16-inch version, and gluten-free crust is available as well. My husband also swears by the poutine – I'm not a fan, so I can't vouch for it myself.
The Mad River Taste Place
The newest addition to the Valley's dining scene is The Mad River Taste Place where you can stock up on a wide-range of Vermont-made products from cheese to beer to coffee to granola to chocolates. Love all things maple? You'll find numerous products made with it including candy, soda, barbecue sauce and rum. There's a cheesemonger on hand to help you choose from the many cheeses in the case (true to the name, tasting is definitely encouraged) and you can accompany a cheese and charcuterie platter with a flight of hard ciders. There's a cozy fireplace that's perfect for some wine and cheese après ski or you can shop and take your treats with you to go. And if you're looking for the Valley's favorite local beers from Lawson's Finest Liquids, you'll find them in the well-stocked walk-in cooler.
The Sweet Spot
Looking for a sweet pick-me-up or snack? My sons insist that the ice cream at the Sweet Spot is the best in the world and they may be right. The maple ice cream certainly belongs somewhere on the top ten list, probably because it's made in small batches using local ingredients. You'll also find cookies, cake, pies, and other baked treats as well as coffee and espresso drinks. An added bonus is that this shop is right next to a covered bridge, offering a charming and quintisentially Vermont view.
A few additional Mad River Valley family dining tips
Although I'm a huge fan of American Flatbread at Lareau Farm in the summer, in winter it can be devilishly difficult to get a table, especially during weekends and holiday periods. Dinner is served from 5 until 9:30 but if you do want to eat there you have to get your name on their day-of wait list, as they don't take reservations. Be prepared to show up before they start taking names at 4:00 each afternoon as a line will have started forming around 3:30 (if not earlier). The pizzas and salads are truly delicious, so you can decide if it's worth cutting your ski day short to make sure you get a table.
Want to prepare your own food in your ski vacation rental? You can't beat the selection at locally-owned Mehuron's Supermarket. Not only do they sell local, artisan products of every stripe, their deli, meat, and seafood departments are all terrific and they have a large liquor section as well. Another great place to pick up groceries as well as delicious sandwiches, salads, and soups is The Warren Store.
Mara Gorman may live at sea level now, but she's a native New Englander and mountain aficionado who grew up skiing in Vermont. She spends as many days each winter as she can chasing her two teen boys through glades and across mogul fields and regularly journeys far and wide to get on the slopes. Mara blogs about her family's many travel adventures at The Mother of all Trips. She is also the author of The Family Traveler's Handbook and an award-winning freelance writer whose work has appeared in various USA Today print publications as well as on websites such as BBC Travel. When there's no snow, Mara and her family can be found hiking, biking and eating around the United States and Europe.