The Green Mountain state is opening its arms to visitors this summer, and while we love winter and the snow it brings, summer in Vermont is equally majestic. We implore you to come check it out, visit your favorite resort, and breathe in the fresh mountain air with us. To help you decide what to do, and where to go, we've compiled a list of our favorite activities at resorts across the state. Don't miss out on this great family fun!
Mountain Views, Fresh Air and the Great Outdoors
We've come to appreciate the fresh air and wide-open spaces of the great outdoors even more over the past year and a half. Escaping to Vermont's mountain resorts gives families access to beautiful forests, meandering rivers and streams, and epic vista views.
Mad River Glen keeps it simple in the summer. Their trails are always open to hiking and are family friendly. Bring the pup along, too, but remember to pack out what you pack in. The forest canopy offers a nice break from the sun and heat, but there are also spots to dip your toes in cool mountain streams along the way.
Once you've worked up an appetite, head back down to the base for lunch or dinner at Generals Stark's Pub. It's open Thursday through Saturday 4:30 – 8:30 p.m., and on Sundays 10:00 a.m. to 2 p.m. until the middle of October.
Want more water fun? Check out our guide to swimming in the Mad River Valley.
This summer Okemo Mountain Resort offers visitors a unique chance to check on the progress of the installation of a new lift. Visitors can take a scenic chairlift ride on the Sunburst Six to the summit, where construction of the new Evergreen Summit Express is underway. Kids will love watching as the terminal gets built and filled with concrete. Next up, parts will be delivered and assembled at the summit and the pieces will come together. While visiting the summit guests can enjoy lunch or a snack (like the newest addition to the menu, Vermont's famous creemees!) and take in the view, pick wildflowers, or hike up the Buckhorn trail to the historic fire tower and enjoy the view.
Get a taste of rural Vermont at Billings Farm & Museum, just a short stroll from the beautiful Woodstock Inn. Children and adults alike will love meeting the farm's cows, draft horses, sheep, goats, and chickens. Together, learn about the history of the farm and operations while sampling on raw-milk cheddar cheese and Vermont-made ice cream.
Also new this year at Woodstock, try the Kids Concierge where they get to craft their own day of adventure with unique activities from falconry to s'mores.
Enjoy incredible views of four different mountain ranges at the top of Stratton Mountain's fire tower. A scenic gondola rides takes you to the Mike's Way trailhead. Follow the path to the true summit of Stratton and the crossing of the famous Appalachain and Long Trails. Inspiration for both can be traced to this peak. The trail is family-friendly with nearly no elevation gain, and under a mile one-way. Get more information the scenic gondola ride and hiking at www.stratton.com.
Adventure Awaits in Vermont's Green Mountain
Vermont's mountain resorts play host to a plethora of adventures from downhill mountain biking to ziplines, disc golf to aerial adventure parks. There is something for every thrill-seeking family out there.
Bromley Mountain is Vermont's Sun Mountain and a great summer destination for kids and adults alike. While Bromley offers a range of activities during the warm months likes ziplines, 65 elements in an aerial adventure park, and a big splash waterslide, we can't resist the pull of its classic alpine slide.
Bromley's Alpine Slide is triple tracked, 2/3 of a mile long and is one of Bromley's longest running attractions. Parents can ride with their kids, making it available to basically any age and size. We can't wait to share summer downhill thrills with our kids at Bromley this summer.
Want an extended adventure for the kiddos? Sugarbush Resorts hosts Mountain Bike Adventure Camps. Four different 5-day sessions are spread throughout July and August. Sign up today.
Want to try it yourself? Sugarbush offers group guided rides and lessons for adults and kids alike. Learn more: https://www.sugarbush.com/camps/downhill-biking/.
The Magic Mountain Disc Golf course is something the entire family can do. Hike the lower half of the mountain—through woods, ski trails and along streams—while throwing and chasing after discs. Getting them in the basket is the goal, but getting there together is the most fun. Easy on the wallet, it's just $10 to play 18 holes. As of July 1st, the Tavern is also open on weekends for lunch and dinners, Thursday through Sunday.
Music in the Mountains
Looking to relax and enjoy some tunes, or get down on the lawn with the little ones? Vermont's resorts are perfect outdoor venues for music in the summer. From classical to funk, there's something for everyone.
There is nothing more relaxing than Music in the Meadow at Trapp Family Lodge. Enjoy pairing sweeping mountain views with your music, and bring the kids along to listen and frolic. We suggest coming early to claim your spot and setting up a nice picnic on the lawn to enjoy before or during the show.
Jay Peak's summer music series returns this summer to the Stateside Amphitheater with acts such as Melvin Seals & JBG with special guest John Kadlecik on August 13. The August West Festival on August 21 is a free live music event in the town of Jay featuring Dead Sesssions Lite and Rick Redington and The Luv.
We recommend making a night or two of it, and nabbing a Splash & Stay package, so the kids can enjoy the Pumphouse Indoor Waterpark by day.
Kids under 12 are free at Bolton Valley's Live Music on the Lawn series. A packed schedule plays host to northern Vermont musicians as they perform on the mountain stage to an audience spread out on the base area lawn. Add a few of these to your calendar today.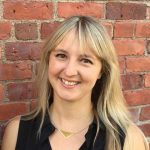 Sarah Wojcik is the founder of All Mountains Mamas. Becoming a mother in 2017, she grasped the opportunity to share her passion of skiing and snowboarding with families across North America. Formerly the Director or Marketing and Communications for Ski Vermont, she writes with great knowledge of the ski industry in Vermont and beyond, and from the point of view of a mother working to get back out on the slopes with a pre-schooler and baby in tow. She currently works for Ski Area Management magazine as an Associate Editor and wearer of many hats.