If you're like me, sometimes you're looking for low-commitment activities that don't break the bank. Family activities that you can decide to do the day of.  Well, if you're in or near Vermont, taking a hike at one of our mountain resorts is one of the most accessible family activities you can find. And if you are in northern Vermont, you'd be crazy to bypass a hike at Bolton Valley.
A Hike For All Ages
I have a four-year-old, and while we take plenty of walks in the woods, I wasn't sure how he'd handle a mountain hike. As we packed up supplies for the afternoon, I had my fingers crossed that the hike would be without whining and we'd at least get to a place with a view. I studied the map Bolton provides online, and knowing the mountain a bit, I decided we'd try a lower angle hike from the base area to the Timberline Peak or Mid-Station. Having options seemed wise.
When we arrived at the parking lot, my husband strapped our toddler on his back, and I outfitted our backpack with snacks and water. On our way to the base area, we passed a little kiosk with printed maps of the hiking trails. That was the first indication that we picked an excellent spot for Ollie's first hike. A resort that provides clear directions for accessing and following trails is key for a stressless ascent.
As we passed through the base area, I looked for an indication of the trail we were hoping to access and was delighted to see big yellow signs with blue paw prints on them to guide us. It not only assured me but gave my son something to look forward to. He high-fived each one we passed, making our hike a fun game. It was just the motivation he needed to keep trekking.
The trail was super friendly for youth hikers, with a nice easy grade and fun little streams of mountain runoff to jump over. While it took some cajoling, Ollie kept a decent pace and had a great time. At the crossroads, we decided the family was up for making the trip to the summit of Timberline Peak. It promised great views, and the path up to the peak was the clear choice for the kids.
Beautiful Views
Timberline Peak did not disappoint.  We enjoyed incredible views of the Champlain Valley as the kids ran around and exalted in the freedom that only a peak environment can provide. We introduced our youngest to the mechanics of a ski lift and settled in for a nice snack and water break. I was so proud of our little family for reaching the peak in good spirits.
We decided to try a new trail, passing through the mid-station for the descent. It also claimed epic views, and while it was a bit steeper and rocky, Ollie handled it like a champ. It was also worth the extra effort. We passed beautiful fields of mountain flowers and enjoyed more views of the Champlain Valley as we tip-toed down the mountain.
Overall, I could not have been more pleased with our first hike as a family of four. Bolton Valley provided great guidance on their website and on-site, with maps, markers, and clear trails. It was also a perfect spot for our first hiking excursion with a young child. Our little backpack has served us well, but it was refreshing to know there were well-marked, low-grade trails at Bolton to introduce a four-year-old to hiking.
Winding Down with Good Eats and Music
We didn't decide to hike Bolton on this particular Saturday completely by happenstance. I caught a drift of their burgeoning music calendar and thought it would also align nicely with a hike. What could be better than a hike, than a hike followed by good food and music?
My husband and I have frequented the James Moore Tavern at Bolton Valley often during winter, and it's never disappointed. We also heard a rumor about a donut sundae which I may have used to bribe my son during our hike. And so, we ordered food from the tavern as soon as we got back from the hike and settled in at picnic tables as the Saturday night band set up.
A kid-friendly menu set my kids up with standard kid pub fare of hot dogs, fries, and fresh water. I, however, went for the double smash burger made with local beef and as always, a nice local beer. My husband followed suit. As we sat and ate, the band from Burlington set up to entertain a growing crowd.
Families—local and visiting—started setting up for the evening, and kids played games on the lawn. Both of my kiddos made friends with other visitors and ran around the safe base area chasing each other. The promised donut sundae was the only thing that could distract them from other kids and freedom to frolic about. It was very well received by all parties.
Post-sundae, we stayed a bit longer to listen to the band and let the kiddos burn off the sugar. The music was great, the atmosphere was epic, and our kids passed out in the car on the way home. Now that's what I call a success.  Thank you, Bolton Valley, for providing the backdrop, sustenance, and entertainment for a perfect family Saturday afternoon.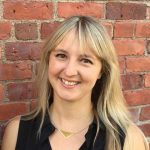 Sarah Wojcik is the founder of All Mountains Mamas. Becoming a mother in 2017, she grasped the opportunity to share her passion of skiing and snowboarding with families across North America. Formerly the Director or Marketing and Communications for Ski Vermont, she writes with great knowledge of the ski industry in Vermont and beyond, and from the point of view of a mother working to get back out on the slopes with a pre-schooler and baby in tow. She currently works for Ski Area Management magazine as an Associate Editor and wearer of many hats.