Our first indication of the approaching weather arrived in the form of an email a few days before Christmas. The message was from the woman whose Vermont cabin we were due to rent for four nights leading into New Year's. This would be our family's first time taking a Vermont holiday ski trip and everyone was looking forward to decompressing after the Christmas bustle. The note that popped into my inbox, however, gave me pause.
"Hi Gina, I hope all is well! I am looking ahead to your stay and the forecast is quite frigid. We hadn't discussed…are you and your husband comfortable with operating a woodstove? If you decide you'd rather cancel than come when it is frigid, I certainly understand and would give you a full refund."
I hadn't checked the weather report in a few days. My only concern leading up to our holiday week ski trip had been whether or not there would be snow—and there had been plenty of that in December. Temperature hadn't even crossed my mind. As a ski Mama and outdoor enthusiast I've long subscribed to the proverb that says there's no such thing as bad weather, only the wrong clothes. The old adage holds especially true when the snow is good. Still, the email sounded a little ominous. Frigid? Cancel? How cold was it supposed to get?
Quite cold, as it turned out. The forecast was calling for highs in the single-digits with sub-zero lows after dark. Still, the house was booked, the conditions on the slopes promised to be excellent, and the husband and I were both just fine with operating a woodstove. Crazy cold snap, be damned. It was game-on for the Vercesi Family.
Our plan was to ski four mountains over four days. Because we live in New York, a trip up to Vermont requires at least one overnight stay. Usually we put down roots at one resort, staying as close to the slopes as we can. This time, however, we looked into renting a house that was within an hour or so of each of the mountains we wanted to ski. During our search, we learned that one of the best things about Vermont is that you're never very far from a ski slope. Our plan was to ski a half-day at Pico, which we'd hit on our way north, followed by Sugarbush and Stowe. We'd end the trip with by celebrating New Year's Eve at Bolton Valley, a mountain that has long been a family favorite.
Doing the trip this way definitely offered a new experience—we'd be driving to the mountains in the mornings instead of taking a quick walk to the lifts, toting our skis instead of collecting them from the ski valet, and having (most of) our après-ski festivities around the woodstove back in the cabin instead of around the bar in the lodge. It would feel like being locals!
Day One – A Quick Pico Primer
With 57 trails, about half of which are intermediate, and almost 2,000 feet of vertical, Pico is a small mountain that packs a big punch. We've skied Killington as a family, but this would be our first time at the Beast of the East's laid-back neighbor. Our goal was to get up there by lunchtime, which would give us a few solid hours on the slopes before the lifts stopped spinning. As it turned out, a few hours would be plenty of time. We had been watching the temperature drop steadily throughout our drive north and when we pulled into Pico the thermometer on the car's dashboard hovered around two-degrees.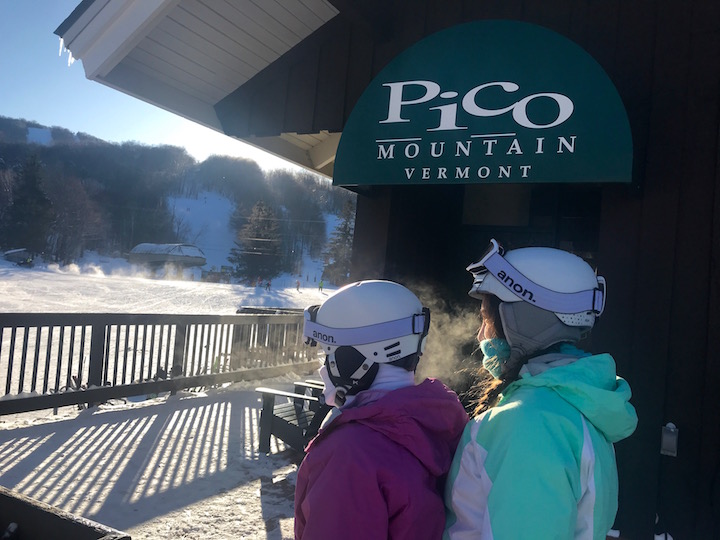 At the ticket counter we learned that the summit was closed because of the cold, but we didn't really mind. Even though it was our first time trying out Pico's pretty terrain, it was freezing. The Golden Express quad was running and we lapped Prospector, Fools Gold, and Panhandler multiple times in between popping into the lodge for a stint by the fire or cup of cocoa. I don't think we even made it to last chair, but the runs we got in were the perfect warm-up to our holiday trip.
Day Two – Mellow Mount Ellen
The log cabin we rented in Rochester was just a few miles off Vermont Route 100, which is sometimes called "The Skiers Highway" in honor of the alpine giants that line its path. After double checking our bags for balaclavas and packing extra packages of hand and toe warmers, we were on our way to Sugarbush Resort, about 20-miles north.
Given that it was Christmas week, I suggested we spend the day at Mount Ellen, as the resort's Lincoln Peak area tends to be busier during weekends and holidays. I later learned that Mama Mara's family skied at Lincoln Peak that day and that they had the same fantastic conditions and non-existent lift lines that we enjoyed at Mount Ellen. Double Sugarbush success for the Mamas!
Like the previous day at Pico, the temperatures forced many more breaks between runs than we normally took, but doing so also gave us the chance to chill out and enjoy Mount Ellen's funky, old-school base lodge. The Friday lunch special was meatball heros (or grinders, if you're a New England girl, like me) and they were fantastic—yet another nod to Sugarbush Resort's great food.
We did manage to get up to the summit once and though it was frigid, the gorgeous view off Panorama over the ridge—one of the most beautiful in all of Vermont skiing—and the long cruise down Rim Run from the top made it totally worth it.
Day Three – Sunshine at Stowe
Mother Nature decided to grant us a brief reprieve on Saturday and we were treated to one of those truly golden ski days under bluebird skies at Stowe. We got to the mountain around 10:30 and headed straight up the Mountain Triple. Temperatures had finally risen a bit and after two straight days of sub-zero temperatures, it actually felt balmy.
Mount Mansfield has long held a special place in our hearts. My husband spent his youth skiing the mountain's infamous front four with his brother and their buddies while years later, Stowe is where my girls and I both learned to ski. We all love Mansfield's classically beautiful, woodsy terrain—which was 100-percent open that day with amazing snow conditions.
Saturday's sun kept us a bit warmer than we'd been during the previous two days and we skied hard all morning, catching runs off the gondola and all three chairs on favorites like Toll Road, Lord, Hayride, Waterfall, and Perry Merrill. My husband and the two older girls ducked into the Nosedive Glades a few times while the Small One and I opted for Rimrock instead.
After lunch we all took the Over Easy gondola over to Spruce Peak for a while. Mama Dana and her family were at Stowe for the day and she and I made plans to rendezvous for a beer at the Spruce Bar, which we did while my husband took the big girls back over to Mansfield to ride the gondola up one last time.
Day Four – Coming Home to Bolton Valley
They aren't joking when they say that Bolton Valley's base area is at a higher elevation than most of the other Vermont mountains. Most of the time, that elevation translates into awesome conditions, as Bolton tends to get a lot of snow—which it had in spades during the month of December. Today, however, it also meant that the temperature gauge dropped from two degrees above zero to eight-degrees below during our drive up the access road.
I had read on the Bolton Valley website that morning that the Wilderness Chair was spinning—the chair that leads to some of our favorite terrain on the mountain. It was New Year's Eve day and we were planning to stay a bit later to have dinner at the James Moore Tavern followed by some night skiing and the annual torchlight parade and fireworks. Given that schedule, we didn't rush out that morning and arrived around eleven o'clock.
We learned the news when while we were booting up in the lodge. Mountain operations had just made the call—both Wilderness and Vista were closing. Summit access was done for the day. It was just too cold up there.
Though our runs were on the shorter side that day, we still got plenty of them. We started out skiing some of our favorites off the Mid-Mountain chair—especially fun were our jaunts along Enchanted Forest, which was a winter wonderland. Though the quick lift rides followed by fast cruises down the mountain kept us semi-warm, the girls were soon ready for a break. While the three of them headed into the base lodge to thaw, my husband and I went back up for a few runs over on the Timberline side.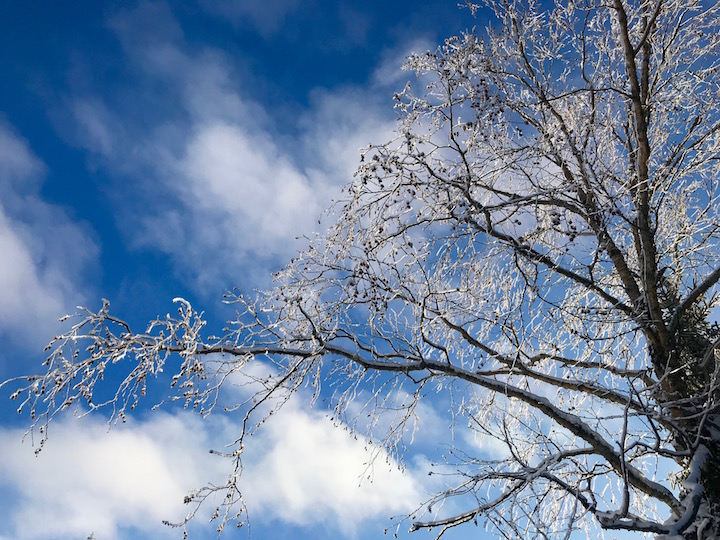 The snow at Timberline was powdery and pristine and pretty much everything was open. We'd only done a couple of runs when we spotted our girls gliding down Timberline Lane from the chair. We shouted down to them that we'd wait up at the top and the five of us cruised back over to the main base together, where a pit stop for pizza at Fireside Flatbread was in order.
Because I'm nuts, I abandoned my crew after lunch to head back up the Snowflake Chair, where my eyelashes quickly froze while I adjusted my goggles. The sun had dropped a bit lower in the sky by this time and glinted off the surrounding ice-glazed branches. My husband joined me, and after a few last runs over at Timberline one of Bolton's famous winter sunsets glowed over Upper Villager to cap off the day—and the year.
A New Year's Ski Resolution
During the holiday week we spent in Vermont, a camaraderie developed between skiers and riders on the mountain—a camaraderie that came from knowing that we were out there anyway—out there loving Vermont and having a great time. And though it may sound like an oxymoron, there's more to a ski trip than skiing. The base lodges at all four mountains were packed throughout the week with jolly folks chatting by the fire, laughing over a beer, sharing a burger, or browsing for cute new logo sweatshirts in the gear shops.
It can be tough to feel like you're getting your money's worth on the mountain when the weather doesn't cooperate and you don't get to ski as much as you would in other conditions. But if the choice is between not skiing at all or skiing a few less runs and taking more cocoa breaks, I'll opt for the latter option any day.
Gina Vercesi is an award-winning freelance writer with an adventurous spirit and unwavering wanderlust. Despite growing up in New England, Gina didn't don a pair of skis until February 2014—the result of being raised by a beach-loving dad who eschewed everything having to do with snow and cold. When she finally took her first lessons and hit the slopes at Stowe Mountain Resort, she became an instant convert. As an All Mountain Mama, Gina loves sharing the joys of Vermont skiing with powder-lovers and novices alike.
Chronicling journeys on land, water, and snow, Gina's words and images have appeared numerous print and digital publications including National Geographic Traveler, Travel + Leisure, Sierra, the Boston Globe, Delta SKY, Afar, Yankee, and many more. She is passionate about helping families (including her own!) unplug from electronics and the frenetic pace of modern life and believes that travel and adventure are the best ways reconnect to one another and the world around us. Gina lives in a friendly village on the Hudson River with her husband, three daughters, and a good dog. www.ginavercesi.com