Maybe it was the idea that my husband and I had the morning to ourselves while the kids were at all day ski camp. Or maybe it was the thrill-seeker in me who's been pretty dormant since having kids. Whatever it was, it was completely satisfied on our December morning zip line tour at ArborTrek Tours at Smugglers' Notch. This was my first time zip lining and I was a little apprehensive. For full disclosure, I did attempt it once in Central America but didn't make it to the first platform and my husband ended up going solo.
ArborTrek was a completely different experience as the guides were awesome at explaining the ropes, literally, in a low practice line right behind the office. This brief chance to try a zip line, while maybe hanging a few feet off the ground, gave me the skill set needed to get out onto a real line.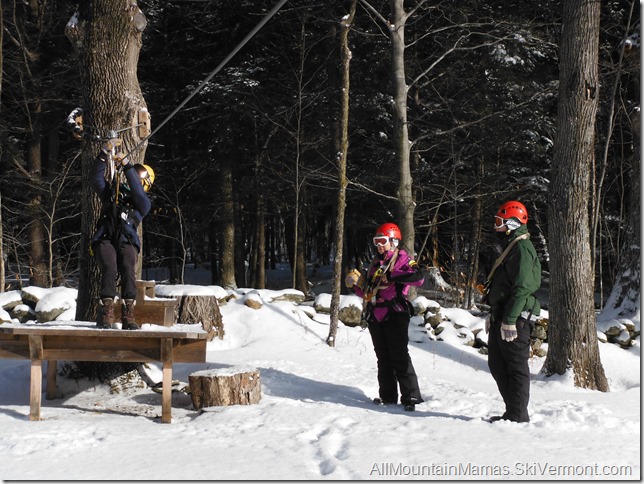 After a short drive down a rarely-used lumber road we came to our starting point. The full canopy tour took us down eight zip lines, over two suspended bridges, and rappelling from two separate platforms. Given the small size of our group it only took about an hour and a half to complete the course. Arbor Trek will take groups up to eight people at a time and tours of this size usually take two to three hours.
Ok, now was the time I needed to woman-up and not chicken out like I did on my first zip lining attempt. This was a rare daytime date with my husband, and a totally unique one at that. With each line, one guide would go first and give us hand singles from the end of the zip line as we made our way to the platform. Although at times we were over seven stories high, I always felt safe as the guides were constantly making sure we were properly strapped into our gear and prepping us for what was to come next. I'm a planner, so I always appreciate knowing what's next.
I decided to just go for it and be the first in our party of two to go off the platform. After that initial sinking feeling in my stomach subsided, I was in complete awe at how absolutely exhilarating it felt to soar over the snow capped trees. It wasn't until the second or so line that I felt relaxed enough to actually begin turning my head while on the line to see everything around me and it was a great feeling to just let yourself fly. This was especially true as the lines became longer and you couldn't see the end platform until well after you were zipping to it. The longest zip line is about 1,000 feet and the highest is about 75 feet off the ground.
The guides were super knowledgeable about the course, the trees and wildlife that we were zipping over, and gave us suggestions of unique things to see in the area. We were lucky enough to be the only ones on the tour and the guides were great at making us feel totally comfortable.
The somewhat ice-covered suspension bridges provided my husband with a little angst, though our gear was always connected to the lines to prevent any serious fall from occurring.
My biggest surprise was how much I loved rappelling! Getting into the position to rappel – not so much, but the actual feeling of letting yourself go as you guide your way to the ground was an unexpected thrill!
ArborTrek provides zip lining tours year round and they have tours of various lengths from three to eight zip lines. We were on the longest of the offered tours. Yes, it was a chilly 4 degrees outside on the morning of our trip, but layer up in the same way you would if you were on the slopes and you'll be fine. My Kombi heavyweight base layer kept me super warm.  Our kids were too young to partake in the fun but kids over 60 pounds can try out the canopy tour.  For school age kids there is a great obstacle course over at the main office site that's on our bucket list.
Give ArborTrek  zip line tours a try on your next visit to Smugglers' Notch. You won't be disappointed and if you're like me, you may even find the thrill-seeking side of you again!
Adrienne Veglia Mazeau is the mom of two school age children, and loves taking them on adventures with her attractively geeky archaeologist husband. She writes about balancing a demanding full time career and family travel both close to her home in Upstate New York and beyond.
Although currently on a hiatus from blogging, her writing strives to inspire others balancing family and demanding careers to carve out time to travel together. Adrienne began skiing at age 12, but lost touch with one of her favorite pastimes when her career and family demanded much of her time. Now many years later, she is back on the slopes again and teaching her children to embrace winter and develop a love of skiing.