A Letter from the Editor
Hello friends,
Sarah here, from All Mountain Mamas.
It's been an interesting six months, hasn't it? So much of our world has changed since the Mamas last reached out to this group of family-centric skiers and riders that love Vermont. I'm sorry we took such a long hiatus, but let's go back to March for a second.
On March 15, 2020, I welcomed a new child into my family. He's a healthy, happy little boy named Dash and we're so excited to introduce him to our favorite pastime of sliding down snowy mountains. On that same day, ski resorts across Vermont shut their doors for what ended up being the season. It marked the end of winter skiing and riding, and the beginning of quarantine life for Americans. And boy, what a long, strange trip it's been since.
And here we are now, experiencing the waning days of summer and feeling uncertain about the coming season. I am lucky and privileged to live in Vermont and enjoy endless access to the outdoors with my family, whether in the mountain or on beautiful Lake Champlain. But where August usually has me excited about the coming fall and winter, I'm a little apprehensive as I'm not sure what those seasons will look like this year. My big question…
"How will my family ski this year?"
Luckily, when it comes to skiing and riding, I have some insight that I want to share with you. You see, my full-time job is as an associate editor with SAM magazine, also known as Ski Area Management. Since 1962, our publication has been the go-to resource for ski area operators and employees to learn about new snowmaking and lift technologies, marketing to the skier and rider, staff safety, and more. Since March we've pivoted a lot of our energy to helping resorts across North America figure out how to operate during this pandemic. We've been connecting them with suppliers to help them expand structures for social distancing, and upgrade technology to reduce ticket lines and touchpoints. And while many resorts are still trying to figure out the exact parameters of their operations, they've all been working their hardest to ensure the mountain is a safe, fun escape for their customers. Here, I'm hoping to give you a little peek into what might be coming this winter, why you should still book that ski trip, and some general tips for preparing for the season.
But, why?
I have a 3 year old, so I hear this phrase a lot. I'm sure you all can relate. But this is in regard to skiing and riding. Let's start with the positive.
As we move into the cold season, we tend to move indoors, and we know that indoor events with lots of people might be off the table this year. Enter skiing and riding. Here is something we all love to do (or you would be following this blog, right?), and it's definitely going to be one of the safer activities we can do as a family this winter. Why?
The sport is primarily outside – yay!
We're already wearing masks, eye protection, and things strapped to our feet that keep us relatively distanced. Hurray!
Ski resorts are prepared to deal with the unexpected. They do it every winter. This business is already a fickle one, especially since it depends so much on the weather. What that means though, is that ski resorts are flexible and adaptable. They're used to making important decisions and implementing them quickly on a regular basis, which means they're more prepared than many businesses to make the changes needed to operate this year.
Safety has always been a core component of ski area operations, so they're ahead of the game there as well. Staff and customer safety will just be paramount this year, as resorts implement measures to stifle the spread of the virus.
Just how different will this season be?
How resorts will operate this season depends A LOT on government restrictions and mandates. The state of Vermont is working on the reopening guidelines that resorts and visitors will be required to adhere by, and resorts will build their plans around these. Luckily, our friends at Ski Vermont are working with the folks in Montpelier to ensure resorts in Vermont can operate as robustly as possible, while maintaining the safety of guests and locals.
Tickets, Passes, Lessons, Rental
Gone are the days of grabbing your lift ticket at the ticket office and filling out pass, rental or ski school paperwork on actual paper. Everyone is aiming to go all-in on digital purchases and waivers. This will allow folks to purchase items in advance, fill out the proper forms, and sign disclosures BEFORE ever coming to the resort. It took a pandemic to move the ski industry into the 21st century, so call this a coronavirus silver lining and say hello to reduced ticket, ski school and rental lines. Resort are going to be doing everything they can to shrink the time is takes to get you out and on the slopes, and for that we can be grateful.
The process of acquiring tickets, passes, rentals and lesson isn't the only thing that will be a little different. While restrictions on capacity haven't been set in stone, resorts have to prepare for what might be inevitable. Pass holders this year may not have the unrestricted access they are used to. They might need to sign up for the days they plan to be at the mountain (as Vail Resorts has already outlined), so resorts can manage capacity expectations and ticket sales. Ticket sales will also likely be required ahead of time, and some resorts may use a lottery system if there is too much demand. Lift tickets might sell out during key periods, like holidays and weekends. Skier and riders will need to be proactive and keep their eyes out for communications from their resort and plan ahead. We'll likely need to get creative and be flexible this season as well, if we want to get as many days on the slopes as possible.
Ski and Ride School
Ski and ride school is incredibly important to resorts in Vermont and across the country, so it's been a major topic of conversation among them all. They are looking for creative ways to keep lessons on the table, while keeping guests and employees healthy. We'll likely see a decline in group lesson offerings and an increase in private lessons. Visitors and locals alike will be encouraged to enroll kids and adults together from the same quarantine pods, so strangers aren't mingling. Masks will likely be required.
We may also see an increase in terrain-based learning features, and DIY learning tools, allowing guests to access learning tools themselves, with distanced involvement from instructors, or video guides on how to use these tools. Tools like Burton Handlebar for their Riglet boards could become popular rental item to assist parents who are teaching kids to snowboard themselves. My personal favorite idea? Resorts could create video lessons for parents and kids that are available to purchase and download to your phone.
Whether in-person or virtual, learning won't stop on the mountain. We'll just need to check-in early in the season to see how each resort is managing this operation. (Stay tuned for another post from us about this topic in November.)
Indoor Space: Lodges 
If you're like me and have young children, the base lodge is your home-base, your basecamp. This will be the biggest change for my family this year, and likely the biggest hurdle, as I have a newborn. When my first was a newborn, my husband and I headed to Sugarbush midweek on a powder day and claimed a booth in the bar with new addition (classy, right?). We ordered nachos and beers and swapped out taking runs, one of us staying with the baby. It's pretty clear we won't be able to do that this year.
Indoor capacity restrictions are bound to be a real thing, and how resorts manage the stream of people coming in to use the bathroom, warm-up and grab a bite to eat, will vary from resort to resort. But we can expect that there will be no more claiming a table and staying the day. Some resorts may simply have someone at the entry point checking the people coming and going to ensure they don't go over capacity and there is room to spread out. Others might require lodge reservations, for eating, warming up, booting up, etc. Many will likely encourage people to use their cars as their base lodge, booting up in the parking lot and returning for breaks and lunch. This is definitely a challenge for family, especially ones with smaller kids. Which brings us to lodging.
Indoor Space: Lodging
Lodging is open in Vermont with restrictions and booking trips in advance is one way I plan to ensure my family has time together on the mountain. Slopeside condos have always been a great way to vacation with the family and will be even more ideal this season. Base area hotels will be the same, though with less kitchen amenities. My recommendation? Book early, if possible, and book with the resort. Check the cancellation policies, as they are likely to be pretty generous, and get a few trips on the books. If you aren't buying season passes, booking resort lodging will likely also ensure you have lift tickets for the family while you are there.
Food and Beverage
Eating and apré-ing often go hand-in-hand with being in the lodge. This is an area where I expect a lot of creativity, from great grab-n-go options to new fun ways to dine outside. In one of our SAM huddles with resort leaders across the country, a planning group offered up a few really fun ideas for resorts to implement when it comes to dining – from slopeside tents to base area igloos. I'd love to see some of them pop up in Vermont, so be on the look-out.
I wouldn't doubt we'll see an increase in food trucks in base areas, and parking lots as well. While brown-bagging it in the lodge is a major go-to for many families, new creative options will be a fun alternative this year, and something we'll need to embrace, right alongside the new parking lot brown-bag tradition.
Top Tips for Planning Your Families Ski and Ride Season in Vermont
So we know this year will be different, but the All Mountain Mamas are going to be here to help you navigate and have a successful season on the slopes. It won't happen without a little vigilance on your part, but we'll help by compiling resources throughout the season. I've compiled some important initial ones to help you keep up with changing regulations and news about what's happening in Vermont. I also want to offer my top tips to get your planning underway and your family prepared for winter.
Sarah's Tips for Pre-Season Planning
Sign up for your favorite resorts' newsletters, and read them. They will be working hard to communicate changes to their guests, and the newsletter will be chock full of information on passes, tickets, lodging and operational plans from now through the beginning of the season. During the season, it will be a great resource for information on any operational changes they might have to make on the fly. Following them on social media is a good alternative, as well.
Purchase a season pass, and/or book lodging early to ensure your family will have some time on the mountain this year. If capacity restrictions are in place these are ways help you ensure time on the mountain. Also lodging cancellation policies ought to be a little more lax this year, in case you need to cancel.
Take advantage of flexible schedules. Everyone knows that midweek and non-holiday weekends are a dream on the mountain, so take advantage of the fact that both school and work have gone remote to some degree. It's another way to address the capacity issues resorts might face, and a great way to get out of the house and outdoors this winter.
Invest in good gear. Keep your family warm on the slopes this season with proper layers and warm outwear and accessories. If indoor time in the baselodge is restricted, you'll be spending more time on the slopes, which is a good thing, as long as your prepared! A good hydration pack that can hold handwarmers and snacks is going to be a must this year (and a great holiday gift idea!)
Important Resources:
Ski Vermont – Head here for links to every resort in Vermont and information on season pass sales and signing up for newsletters. Ski Vermont is also regularly compiling information on COVID-19 updates, open dates and activities, programs, and much more.
Vermont Department of Tourism and Marketing – A great resources for information about traveling, lodging and activities across the state.
Vermont Health Department – Head here for updated information on travel restrictions, mask and gathering mandates, and information on the virus containment in the state.
See You on the Mountain
We're all going to need an escape to the outdoors this season. If there is any silver lining to this pandemic, it's the fact that we are realizing just how important outdoor access and activities are to the health of our families. So, while we may need to plan a little harder and take a few new turns this season, it'll all be worth it when we share smiles together at the top the mountain. Even with a mask on, you can't hide the joy we find when we share that impressive view, or a few perfect turns, or that hot cocoa around a fire. Those moment will still happen and they'll feel all the more merrier and impactful because of what we've gone through together.
I look forward to seeing those moments between families every time I go skiing this year.
See you on the mountain,
Sarah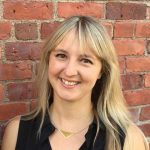 Sarah Wojcik is the founder of All Mountains Mamas. Becoming a mother in 2017, she grasped the opportunity to share her passion of skiing and snowboarding with families across North America. Formerly the Director or Marketing and Communications for Ski Vermont, she writes with great knowledge of the ski industry in Vermont and beyond, and from the point of view of a mother working to get back out on the slopes with a pre-schooler and baby in tow. She currently works for Ski Area Management magazine as an Associate Editor and wearer of many hats.