Part One of a series of informative posts this season designed to help families understand the changes they can expect at Vermont resorts this winter. Our goal is to walk you through each part of your day at the mountain to help families gain a little perspective and plan and prepare.
Vermont ski and snowboard resorts are making snow and opening their terrain to visitors, so what's the process to access this terrain for anyone looking to get their family outside and on snow?
The two most significant things to know approaching this season are 1. Things are going to be different. 2. There are some rules you must review, especially if you plan to travel to a resort from out of state. Before diving into reservations, ticket purchases, or any other planning steps, be sure to check the most recent updates on traveling across state lines and group gatherings in Vermont here: https://skivermont.com/trip-planning-and-covid-19. This page on Ski Vermont houses all the links you need from state guidelines and national ski directives to resort specific COVID operational information.
But we've also been doing our homework trying to collect information that might apply particularly to families. We hope this series of posts on the many aspects of operations at Vermont resorts this winter will help you imagine your days on the slope with the family. From planning to parking lot après, so you can prepare ahead of time to focus on safe, outdoor family fun this winter.
So… step one is gaining access to the slopes. If you're a passholder at any of the resorts, or part of one of the larger pass products like Epic or Ikon, you've likely received a lot of information from the resorts about how you'll need to approach this season. But, if you haven't committed to a pass this year, you might be a little overwhelmed by the rules, reservations, and in some cases, lack of promotions that you are used to taking advantage of. Don't get frustrated! Many of these changes are for good reasons: to protect the safety of resort employees and guests, allow the resorts to manage capacity, and remove interaction and lines at ticket windows.
To help you navigate this world, we're sharing the varying processes across resorts in Vermont this winter.
Killington is Open
Let's start with Killington, one of the first ski areas in the East to open! New this year, you'll need to reserve your parking spot before doing anything else regardless if you are a passholder or not. Once you reserve your spot, you'll be sent a QR code to scan when entering the lot on your day or days chosen. (Have questions about this? Killington has probably already answered them here: https://www.killington.com/plan-your-trip/getting-here/parking-reservations#faq.)
Next step – purchase lift tickets, and purchase them early, for more than one reason: The earlier you buy, the bigger the savings. Inventory for each day is limited, so it is crucial to plan ahead. When you arrive, scan your QR code to park and head to a touchless kiosk to retrieve your tickets. Families note that kids 6 and under ski free at Killington, but you still need to pick these tickets up on-site at a ticket window. (In fact, kids under 5 or 6 ski free at many resorts, but most will require some tracking this year.)
Now you're parked, ticketed, and dressed for a day on the slopes. Give those kids one last pee-check and hop on the lift. Then shred the day away.
Season Pass Holders
No other Vermont resorts have implemented parking reservations at this time, but most will either require a season pass or tickets purchased in advance.
Vail-owned resorts­–Mount Snow, Okemo, and Stowe–will require reservations, and they are exclusive for Epic passholders through December 7. Afterward, passholders will still receive priority access, but lift tickets will also be available for purchase and must be reserved ahead of time.
Stratton and Sugarbush (both on the Ikon pass) are not currently requiring reservations for passholders, but if restrictions change, they seem to be set up make that adjustment if needed. The same holds true for Jay Peak, Burke Mountain, Bromley, Mad River Glen, Smuggler's Notch, and Suicide Six.
At Magic Mountain, passholders do not need to reserve days, but they must check in at a pass-holder window when they arrive for contact tracing requirements.
Daily Lift Tickets
Day tickets must be purchased online at most Vermont resorts this winter (at the time of reporting). Plus, all resorts are either recommending or requiring families purchase tickets in advance, setting expectations that these might sell out over peak periods, such as holidays, and some weekends.
In short, it is essential to plan ahead. That might as well be the motto this year. Whether skiing solo or bringing the whole family, there won't be many instances where you can wake up on bluebird or powder day and simply decide you want to go to "X" resort, if you don't have a pass or ticket already.
Stratton explains that ticket availability will be adjusted daily with more inventory midweek and non-holidays, and those booking lodging via a Stratton property will get priority access. Smugglers' Notch will be giving priority to lodging guests as well. (Stay tuned for more information on lodging at Vermont resorts.) This can be expected across the board. If you can swing it, aim to ski or ride midweek and non-peak periods, to not only get access to the mountain, but to have a better experience overall.
At Sugarbush, Bromley, and Bolton Valley, purchased tickets can then be picked up at outdoor kiosks, and Bolton's can be reloaded online. Magic and Suicide Six day-of tickets will require pick up at the ticket window. Suicide Six will also sell day-of tickets at the ticket window if inventory allows it.
Bromley is also offering half-day tickets this season for both morning and afternoon,  and Jay Peak is offering half-day afternoon rates, except for Sunday morning.  Bolton Valley's night tickets will only be available in-person at the guest services desk.
Be Gracious
Resorts in Vermont have been working tirelessly to implement these new, streamlined systems at lightning speed. All to make your visit as touchless, seamless, and safe as possible. And they will continue to work their butts off throughout the season to serve up a much-needed outdoor escape. Most are also doing this all on tightened budgets and smaller crews, so don't assume the person managing lift lines doesn't also work in IT, snowmaking, or marketing. Either way, give them a thumbs up, teach your kids to say thank you to employees you see and, share your smiles (behind a mask) with the people that have worked so hard to put them there. They deserve it.
Keep up with conditions and opening dates at skivermont.com.

Stay tuned for more segments in this series, including:
Stay to Play: Planning Your Lodging Experience
Warming Up: Indoor Options at Resorts
Your Car as a Basecamp
Lessons and Rentals
Grab'n'Go: Eating and Après at Vermont Ski Areas
Unique Ways Vermont Resorts are Making It Work for You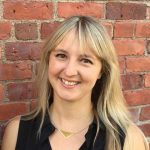 Sarah Wojcik is the founder of All Mountains Mamas. Becoming a mother in 2017, she grasped the opportunity to share her passion of skiing and snowboarding with families across North America. Formerly the Director or Marketing and Communications for Ski Vermont, she writes with great knowledge of the ski industry in Vermont and beyond, and from the point of view of a mother working to get back out on the slopes with a pre-schooler and baby in tow. She currently works for Ski Area Management magazine as an Associate Editor and wearer of many hats.