Summer is a time to revel in the sunshine and outdoors with your family. If you're looking for something special to do with the little ones, a Daycation at Smugglers' Notch will not disappoint. Smuggs' family-friendly winter status transitions seamlessly into summer. From water slides to hikes, rock climbing to ice cream, and all the little touches in between, Smuggs provides activities for kids big and small.
With my oldest just "graduating" from preschool this year, I wanted to kick off summer with a special trip with a few of his (and my) friends. And so, my mom friends and I planned a "school is out" summer escape with our three oldest kids, ages 5, 6, and 8.  We decided to hit up Smuggs for a mountain playdate. We started with a short hike in the morning followed by an exploration of everything Smuggs has to offer in early June. Read more about our hike and get hiking tips here: "Take a Hike at Smuggs"
Splish Splash!
Smuggs has five different water play destinations on property, three with maintained pools and two freshwater gems. The Mountainside Water Playground opens early in the season, so we headed there after our hike to cool off.  This is a perfect spot for younger kids as it features two water slides, one short and shallow, the other more of a challenge and thrill. It also features a shallow splash pad area with caves to explore and a nice-sized swimming pool. The kids dove right in, exploring all the features. After getting used to the smaller slide, even the youngest (who just passed the height restriction) tried the Giant Rapid River Ride. I was a proud Mama seeing my brave five-year-old son head down it all by himself.
After rising to the Rapid River challenge the kids were content to play in the splash area or pool, while Moms got to take a break on the lounge chairs nearby. The Mountainside Water Playground provides all the amenities needed to hang a while with kiddos. Ample seating and umbrellas offered rest and shade, with good visibility to keep track of kiddos. A locker room and snack stand offered everything else you'd need on a nice summer day.  We rounded out our time by the pool with snacks and beverages we got from the Country Store after our hike. For those staying at Smuggs, this store has everything you need!
FunZone 2.0
Next stop? FunZone! While plied with snacks, it was high time for some lunch, so we headed to the FunZone 2.0. The FunZone is home to a host of exciting activities, and, of course, a café. The Refuel Café provided much-needed sustenance to keep us all going. (I recommend the chicken wrap, but would avoid the pizza.) It was hard to get the kids to eat though as we sat outside the arcade with lights flashing and music playing. They wanted to get right to it.
First, we headed upstairs to Ozone, which is covered by a Daycation Ticket. This space has everything from mini-golf to bouncy house obstacle courses to play on. There is also a great "Littles Loft" for the youngest of the crew which had a kid-sized Vermont Country Store, and other fun playthings for toddlers.
Back downstairs we ponied up the extra $15 per child to enter The Go Zone where the kids attempted the Smuggs Warrior Course. The warrior course has awesome features, but I would suggest it for older kids. Our kids couldn't quite do all the features making it hard to complete. That said, if you have a climbers, the Climbing Wall is a hit. The holds are close enough that even my five-year-old could make it to the top. The transparent wall also runs all the way through the second floor, giving the climber views of the whole facility. Had we more energy and time, the kids could have spent over an hour climbing the multiple routes.
Finally, we had to give in to the arcade, which could attract children from miles around with the plethora of games blinking lights, toys and action. Race cars, try to snag a stuffy, or you can even play laser tag.  All-in-all, the FunZone 2.0 does not disappoint.
I Scream. You Scream.
How do you end an epic summer Daycation at Smuggs? With ice cream, of course. What better way to cap a family outing than with a cone of Vermont's very own Ben & Jerry's? Located in the base area, central to all the activities, Ben & Jerry's is a great final stop on the way to the car. Adirondack chairs around a fire pit are ready to welcome you while you rest and devour some Cherry Garcia, or Chunky Monkey. On you way out (or in), don't forget to grab a photo in Smuggs' giant Adirondack, which reminds us all to bring our inner child along.
The Little Details
During our Daycation at Smuggs, we barely chipped away at everything they offer. The Daycation Tickets give you access to a total of eight pools, 4 waterslides, 2 freshwater reservoirs, the FunZone 2.0, planned daily activities ranging from guided hikes to sing-alongs, disc golf, the mountain bike skills park, and more!
Furthermore, Smuggs has little gems to discover between activities. We stumbled upon a playground on the way to the pool, and discovered a game of giant chess  on the way to the FunZone 2.0. And did we mention llamas? Located near the parking lot, these lovely creatures greeted us upon arrival. Seeing their goofy grins and petting their soft fur were welcome ways to kick off the day.
Smugglers' Notch was clearly built to entertain families and it shows in the little details found along the way. There wasn't a dull moment during our day, making it an awesome way to kick off and enjoy summer in Vermont.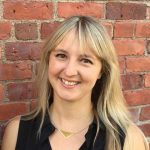 Sarah Wojcik is the founder of All Mountains Mamas. Becoming a mother in 2017, she grasped the opportunity to share her passion of skiing and snowboarding with families across North America. Formerly the Director or Marketing and Communications for Ski Vermont, she writes with great knowledge of the ski industry in Vermont and beyond, and from the point of view of a mother working to get back out on the slopes with a pre-schooler and baby in tow. She currently works for Ski Area Management magazine as an Associate Editor and wearer of many hats.