The Green Mountains of Vermont are host to hundreds of amazing hikes. The Mamas are on a mission to try hikes at each of our favorite resorts across the state. Our first was at Bolton Valley, and we recently headed out for a hike at Smuggs and a fun-filled "school is out!" adventure.
Planning Your Hike at Smuggs
While we were looking for a short hike from the resort base area, it's worth noting that Smuggs is close to some of the state's most iconic hikes, like Sterling Pond, Mansfield, and hikes to waterfalls. (Check out this swimming hole tour story I wrote for Smugg's magazine in 2019.) They also have fabulous cross-country trails for low-angle hikes and more intense trails to the top of Madonna that offer stunning views.
When planning your hike at Smuggs, make sure to stop by the activities desk in the main base area for some tips or if you want to book one of their guided hikes. They also have paper maps of their hiking network that can come in handy if you want to avoid screens or don't have service.
Morse Highland "Wike"
After reviewing the Smuggs hiking web pages and learning about some trail closures from the activity desk, my group landed on the Morse Highland "Wike." Smuggs categorizes their trails as walks, "wikes," and hikes, defining a "wike as "a little longer in duration, up to 3 hours, and moderate to demanding in exercise. Our group consisted of 3 active mamas and three kids aged 5 through 7. We planned a fun-filled day and knew the kids had some endurance limitations, so Morse Highland's 1.5-mile loop felt like the perfect morning jaunt.
After studying the map, we made our way up the trail under the Morse lift. Without signage on the trail, it was up to us to reference the map to find our way. We went a bit off course and through some condo roads, but knowing we were aiming for the peak of Morse Highland lift, we found our way easy enough. The activity desk employee also warned me there would be some bush-whacking on the ski trails, so we were prepared.
At the peak, we found gorgeous views of the valley below and a group sense of accomplishment. The kids also found a nice place to rest in the form of a chairlift. A water and chocolate break refreshed us, but the best surprise was the field of ripe, wild strawberries that we could pick and snack on.
After we rested and replenished, we made the trek back down, meandering through trails and fields of ferns. Next, it was off to the pool and water slides for a cool down and adventure of another kind.
Other Hikes at Smuggs to Consider
If you want to check out the hiking along Smuggs' cross-country trails for less incline and change in elevation, I'd consider the easy/intermediate double and single track trails that lead to Bootlegger's Basin. Bootleggers offer unguarded swimming, plus picnic areas and stand-up paddleboard rentals.
One of my favorite hikes outside of the resort is the Sterling Pond hike, accessed from the notch road, which is closed in the winter. A rather strenuous but shorter hike to beautiful Sterling Pond, it is a must for adventurous visitors with high-energy kids. Smuggs offers a guided hike to Sterling. Learn more about it from the helpful staff at Smuggs or online at smuggs.com.
Tips for Hiking Mountains with Younger Kids
Start small. Don't overdo it on the first hike or season or first mountain hike ever. Even short loops can be strenuous when steep inclines are present, so test the kids out on shorter hikes before making high peaks a priority.
Don't skimp on the water. You can never be sure how long a hike will take, and water is probably the most important thing you should pack. Open trails under the sun paired with elevations can also lead to dehydration faster than you might think.
Bring snacks. This is one of my biggest tips for winter excursions. It applies even more to hiking since it's a bit more strenuous. Snack and hydration stops are also welcome when kids get tuckered from uphill ascents.
Grab a paper map, or download one to your phone. You never know when you might lose service in the mountains, so it's best to play it safe and have the resources you need available without the internet. (That said, we definitely tapped into Google maps once or twice to see where we were.)
Pack an extra pair of wool socks for the kids. Yes, I said wool socks for summer hikes. There is nothing worse than wet feet when hiking. Avoid the blisters and whines, and invest in a few pairs of wool socks for outdoor activity. They hold up well and keep feet, big and small, happy. Check out Darn Tough, our favorite in the winter or summer.
Protect skin from both sun and bugs. Apply and bring along sunscreen and bug spray to ward off unwanted skin conditions. Better yet, wear hats and sun shirts for protection to keep the kids cool and protected.
Have fun! Don't put too much pressure on the family to reach the top or move at a certain pace. Spend time smelling the flowers, observing animals, and enjoying your time with the kids. It shouldn't be a race unless everyone wants it to be!
For more resources about visiting Smugglers' Notch in the summer, check out "Plan a Daycation at Smugglers' Notch."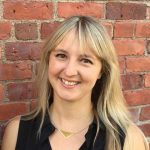 Sarah Wojcik is the founder of All Mountains Mamas. Becoming a mother in 2017, she grasped the opportunity to share her passion of skiing and snowboarding with families across North America. Formerly the Director or Marketing and Communications for Ski Vermont, she writes with great knowledge of the ski industry in Vermont and beyond, and from the point of view of a mother working to get back out on the slopes with a pre-schooler and baby in tow. She currently works for Ski Area Management magazine as an Associate Editor and wearer of many hats.