Smugglers' Notch, more often referred to as "Smuggs,"  is well-known as a top family ski destination in Vermont, and is often found on the Top 10 lists for family ski destinations in the world. I've mentioned this friendly fact to multitudes of families planning ski vacations to Vermont, but have never had the firsthand experience myself. Motherhood is pretty new to me and Smuggs has always been the destination for amazing glades skiing, low traffic trails and an epic parking lot apres scene. After the birth of my son Oliver, though, I was excited to take a closer look and venture on a ski trip with baby in tow.
Stay Awhile at Smuggs, Baby
A day trip to the mountain with an infant or toddler in tow can feel like a herculean feat, as I discuss in my recent post about skiing with a new baby. Planning a weekend (or better yet, a long weekend) at a ski resort has an all around more zen-like feel to it. The car may get packed a little tighter, but having a home base at the mountain makes for a much easier going experience. Make that home base a luxurious condo with a hot tub outside the door, and you're definitely winning this ski parenting thing.
Smugglers' Notch placed my family, consisting of my husband, his brother and wife, and our 1 year old, in the Kestrels 16. The condo is located in the North Hill Community, a short drive from the main Morse base area and directly across the road from the North Hill Community Central. NHCC is an aquatics and exercise facility with indoor heated pool, Splash Grounds Water Playground, two hot tubs, exercise facility and locker rooms. Perfect placement!
The Kestrel condos are palatial, with an open concept layout and plenty of space to host large or multiple families between 3 bedrooms, and 2 bathrooms.  In the words of my sister-in-law, the master bath is "the most amazing bathroom ever," with a large whirlpool tub and steam shower. The entry to the condo follows suit with lots of space to stash gear and plenty of hooks to hang outerwear, helmets, etc. The condo also came equipped with everything we needed, including a high chair for Oliver and crockpot, both of which we were excited we didn't need to pack.
While the Kestrels condos are not ski-in-ski-out, which I tend to recommend for young families that are looking to swap easily between watching a baby and skiing or snowboarding, Smuggs' shuttle services will get you and your family anywhere you need to be on at the resort in a timely manner. Also, Smuggs has plenty of ski-in-ski-out options, if you prefer it. I ended up preferring our location over ski-in, ski -out because it was close to the cross country ski center and FunZone 2.0, both of which I wanted to explore with my son. Each condo unit and location has it's benefits and disadvantages, as you might expect.
Smuggs Activities for Young Families
Cross Country Skiing
Obviously, our primary goal as we headed to Smuggs as a family was to ski. My inlaws even took lessons for the first time while we were there. That said, while skiing was a major goal of mine for the winter season, I also wanted to balance it with spending quality time with my kiddo and exposing him to the great outdoors. I was determined to try as many toddler friendly activities as I could while I was there.
I've taken Ollie cross country skiing in a backpack near our house a few times, but I was really excited to check out the Nordic Center at Smuggs, specifically with one of the pulk sleds they rent out. Day access to the 30 kilometers of cross country trails is $14 for an adult, $8 for kids 6-17, and free for kids under 6 and over 70, and the pulk sled can be rented for $20. Access to the trails is also included when you book a Club Smugglers' Vacation Package, so we didn't need to pay an access fee. I wanted to test a theory I had about cross country skiing with Oliver, so I took myself and my new Rossignol cross country set up over to the Nordic Center right around his afternoon nap time. I bundled him up and placed in the pulk sled hoping I could get some exercise while he napped. At first, he was a bit cranky, but as soon as I started moving he settled right in and was passed out 15 minutes into my ski. I even had to head back out for a second loop when I returned and found him looking too cozy to wake up. It was a great experience for both of us. Usually one parent is stuck inside when kiddos are napping, but this was a great way for me to get some "me time" while working up a sweat – and boy did I. Make sure you dress appropriately before hauling 25+ pounds around on skis! The peacefulness and beauty of the trails was an added bonus. We went up a down a few rolling hills and along a beautiful ice laden stream, and I got to take in the calm and clarity of the woods on a winter day.
FunZone 2.0
After Ollie and I worked up a sweat (ok, obviously just me), we headed next door to the FunZone 2.0, Smuggs' newly reconstructed adventure center for kids of all ages. While bigger kids will be attracted to the game room, laser tag and rock climbing wall, the Littles' Loft located upstairs is perfect for toddlers looking to explore and get the wiggles out. It features a a kid-sized Vermont Country Store, Imagination Playground's Big Blue Blocks (love these!), an arts & crafts station and a 22-foot-long brightly colored pirate ship. Ollie gravitated first to a play train table, but went on to shop for healthy treats in the mini store, and eventually made his way past the aspirational climbing wall to the pirate ship. He loved bouncing around the giant blow up ship and could even climb the soft (and safe) ladder to the tiny slide.  A new friend showed him how to safely slide down and crash into a pile of giggles at the bottom.
My family met us at the FunZone 2.0 eventually and even the big kids got a chance to play. My husband and I raced through the obstacle course and we played a few of the table top competitive games against each other as Ollie watched from a comfy lap. All in all, the FunZone entertains kids from 0-100, if they have a playful spirit.
Getting on the Mountain with Baby – Treasures Daycare
"Treasures is the best" a woman on the shuttle whispered me as we boarded and gave our destination. She was one of several strangers that raved about the daycare facility to us while we were at Smuggs. Whether you're used to placing your kids in daycare or not, dropping them off with caregivers you don't know always come with some trepidation. Any nervousness I had melted away the minute we made our way to the toddler room and was initially lessened by the supportive comments of other moms. We were welcomed at Treasures by two smiling caregivers – Lisette and Dominque. Ollie immediately b-lined to Lisette as she laid out some seriously fun toys, while Dominique asked me a list of pertinent questions and got me familiar with the app that would keep us connected throughout the day. She explained to me that they had a separate napping room with dim lights and a noise machine and would let me know when they fed, changed, and napped Ollie so I wouldn't have to worry about his schedule. Having brought snacks and disposable diapers, I was also pleasantly surprised to learn they provided healthy snacks and meals and were happy to use cloth diapers – win! With great reassurance that Ollie was in good hands, the brightwheel app downloaded on my phone, and my brother and sister in laws in lessons, my husband and I were ready for some bonding time together on the mountain.
We made our way via shuttle to the base of Sterling and Madonna Mountains, opting for a fun run on Sterling to start our day. Our cozy double lift ride gave us nice time to catch up with each other and enjoy our favorite pastime – playing outside together! We had done a lot of base-lodge-baby-watch swapping this season so it was nice to shred the freshly topped trails together without a care in the world. My phone let me know Ollie was doing well at Treasures with updates here and there about his sleeping and eating habits and I checked in with Dominique as we sat in pub enjoying a delicious Vermont beer (another favorite pastime). After a handful of runs and a beer we wanted to check on our newbies on the beginner terrain. We made our way back over to Morse Mountain via a scenic connecting trail and found my brother-in-law Alex smiling at the top of the Magic Carpet. He and his wife, Janelle, enjoyed their lesson and were starting to get comfortable on their skis, but we also ready to refuel after  a few hours learning. So we called it a day on the slopes and made our way back to the condo for some family time, good food and a little game called football.
Top Tips for a Smuggs Ski Trip with Baby
When planning a Smuggs ski trip with baby or toddler in tow, here are my biggest take-aways:
Lodging  – Book one of  Club Smugglers' Vacation Packages depending on your needs. All include access to the Ozone at the FunZone 2.0, indoor heated pools and hot tubs, cross country and snowshoe trails, tubing, and ice skating. The FamilyFest and Summit packages also include 25% off of Treasures Daycare.
Childcare – If you have a child under 3 years of age and want to get a full day on the mountain as parents, I can't recommend Treasures enough. Treasures staff are trained in first aid, CPR, child development and behavior management and the daily rate is $95, but discounted with certain packages. Fish tanks in every room are a bonus! Babysitting is also an option if you only need a few hours of care. Rates start at $15 an hour for one child.
FunZone 2.0 – Bring the whole family to the FunZone 2.0 to get the wiggles out. Whether toddlers, teens, or "older" kids, there is fun to be found by everyone. Stop by the ReFuel Cafe for snacks, sandwiches, and 10 flavors of soft serve for the kids, and wine and beer for the parents.
Nordic Center – Really soak in the beauty of Ma Nature in the winter with a snowshoe or cross country ski. It's fun for all members of the family and great way to get kids of napping age to doze off while you get a workout.
Swimming / Hot Tubs – Take advantage of one of the indoor pool and hot tubs spaces at Smuggs. It's a great winter break for you and the kids! The Courtside Pools & Hot Tubs are open to everyone staying at Smuggs, while the North Hill Community Center is another great options for those staying in Kestrels and other North Hill condos.
The Country Store – Groceries are a must when staying in a condo, and while I suggest packing what you need beforehand, you won't be wanting if you're missing anything. The Country Store at Smuggs has it all. From basics to gifts, you'll find what you are looking for. I was especially surprised to find some smaller batch local beers available there, and of course local maple syrup when we forgot to bring our own for pancakes.
Hearth & Candle – Treat yourself to a night out at the Hearth & Candle at Smuggs for classic American dining with a local Vermont twist. Locally sourced cheeses, meats, beers, and spirits await. Three different dining rooms give you the option of family friendly, cozy or adult-only dining for a romantic night out. I'm a big fan of their local cocktails and the special gumbo I had our first night was fantastic!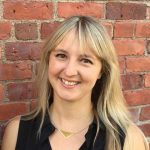 Sarah Wojcik is the founder of All Mountains Mamas. Becoming a mother in 2017, she grasped the opportunity to share her passion of skiing and snowboarding with families across North America. Formerly the Director or Marketing and Communications for Ski Vermont, she writes with great knowledge of the ski industry in Vermont and beyond, and from the point of view of a mother working to get back out on the slopes with a pre-schooler and baby in tow. She currently works for Ski Area Management magazine as an Associate Editor and wearer of many hats.