Winter has finally, fully, arrived in the Green Mountains of Vermont. Snowstorms have been blanketing the slopes, and temperatures have deeply dipped, creating great conditions statewide.  The early days of the season had been rather temperate, much to the chagrin of snowmakers. The conditions did, however, benefit the idea of "your car as a base lodge," making the experience a bit easier as access to indoors have been limited. Now that winter is in full force though, it's time to consider some of Vermont resort's unique ways they are addressing the cold.
As temps dropped to single digits in late January, I got the chance to try out one resort's unique answer to limited base lodge access. My family and I tested a private Sugarbush Base Cabin, and boy, was it an amazing luxury. Located at Lincoln Peak near the base of the Bravo lift and at Mount Ellen at the base of the Inverness lift, these cute cabins are perfectly located and outfitted.
Warming Up in Style
Our cabin named "Stark Cabin" after General Stark and the peak of Mad River Glen. Inside resided a polished, new wooden picnic table, heater, hooks, an extra bench, a counter for food prep, and access to power for music, phone charging, etc. The best feature (besides heat), a lovely window streaming sunlight with a view of the skiers and riders outside. Another perk? Portable bathrooms were set up just on the backside of the cabins, so easy access to renters.
We picked an optimal day to test these out. It was about ten degrees Fahrenheit and windy, albeit sunny, on the morning we arrived. We'd been rocking the "car as a base lodge" idea previously this season, but weather had been milder then, and we could really only swing half days so far. The cabins allowed us to settle in just like we used to in the base lodge, but with even more style, as we could spread out in our own space and ski right out of the cabin to the Sunshine Quad learning area.
Fueling Up in Style
Between sets on the bunny hill, we snacked, colored, warmed up with hot cocoa and later enjoyed a late lunch ordered from the Mount Ellen cafeteria. I noshed on an epic grilled ham and cheese sandwich that I didn't even get to snap a shot of, because I ate it so fast. (Teaching kids to ski is hungry work!)
At Lincoln Peak you can even have food from Rumble's Bistro & Bar delivered to your cabin as a bonus feature. Try the truffle fries and local Misty Knoll confit chicken confit for yourself, and gouda mashed potatoes for the kids. Then roll your well-fed bodies back to the slopes for another round of runs.
Booking a Sugarbush Base Cabin
Reserving a Sugarbush Base Cabin for your family is easy as pie. Simply head to sugarbush.com and select your date and check for availability. Rates for the cabins range from $159 – $550 depending on the day and location. You guessed it – midweek rates are lower, holiday rates are higher. Pro tip: Save $40- $50 by simply choosing Mount Ellen over Lincoln.
Mount Ellen is a gem. It's got fantastic terrain and a laid back, local vibe. The famed FIS is a must for any adventure seeker, and lower FIS is a hidden gem on a powder day if you don't mind the run out. Got park lovers? Mount Ellen has the features they're looking for, plus gorgeously groomed cruisers like Elbow, and well, Cruiser. It has something for everyone, and on a sunny day, the Slidebrook Quad can take you over to Lincoln for a few runs. Pack a snack for this long scenic ride. (It's the longest chairlift in the world at just over 11,000 feet.)
There was no doubt we felt like royalty in this posh cabin, and it not only extended our day on the slopes, it improved it vastly. Skiing with young kids is no joke, but having this space allowed us to relax and enjoy all the aspects of the days together from morning coffee to last call runs.
For more tips and tricks to making it work this season, head to our 2021 season guide, and we'll see you on the slopes, wearing masks and smiles.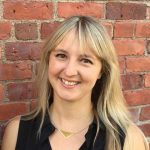 Sarah Wojcik is the founder of All Mountains Mamas. Becoming a mother in 2017, she grasped the opportunity to share her passion of skiing and snowboarding with families across North America. Formerly the Director or Marketing and Communications for Ski Vermont, she writes with great knowledge of the ski industry in Vermont and beyond, and from the point of view of a mother working to get back out on the slopes with a pre-schooler and baby in tow. She currently works for Ski Area Management magazine as an Associate Editor and wearer of many hats.